Banking Coaching In Delhi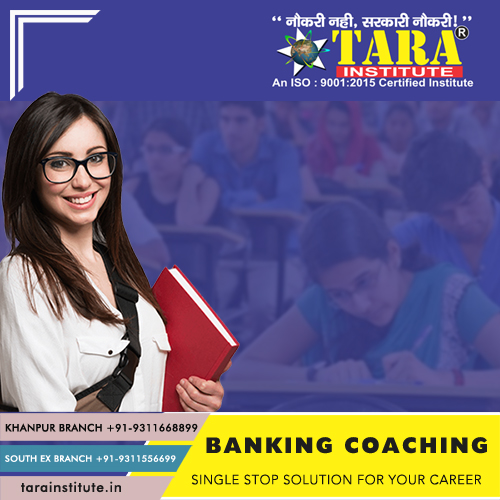 Banking Sector is one of the most reputed sectors in India. Aspirants could hope for a promising future after clearing the exam. IBPS conducts the common written examination to select the candidates for various posts. As well as, SBI and Reserve Bank of India selection board conducts examination for the various Post. Many Private sectors banks conduct exam based on the IBPS score. So it is necessary to understand the basic learning of different pattern in exams according to the post applied. It is recommended to find an ideally suited IBPS banking coaching in Delhi to clear the exams.  There are many factors who could play the major role to succeed in banking exams like well-prepared test series, study material, motivation, and faculty. Therefore, it is necessary to find one of the best platforms to meet all requirements of banking exam aspirants. As we know that in the past few years, Government Jobs in Banks have been in huge demand due to many specific reasons like the high degree of job safety, pays and moving career and growth opportunities offered.
As per the RBI website, Banks are alienated in a different category and the different types of banking exam. The history of nationalized banks belongs to the history of India dates back the year 1995, when Imperial Bank of India nationalized and rechristened as State Bank of India under SBI act 1995. There are complete 93 commercial banks existing in India. In recent updates, there are 19 banks categorized in the list as nationalized. In addition, Bhartiya Mahila Bank and IDBI Bank are categorized as the public sector bank. And six banks are the SBI associates.
Get updated with the Additional information about the different approach to select students.  Aspirants should also be aware that SBI and RBI conduct their own exams and their different approach and syllabus to tackle the exam. Banking exams are scheduling to recruit candidates for the different post like PO, Clerk, Specialist officer, and more options. These exams are not easy and need strategic preparation to clear the exam.  Many Public Sector Banks hire candidates through multiple Bank Exams such as IBPS PO, IBPS SO, SBI PO, SBI SO, IBPS Clerk, SBI Clerk, Dena Bank PO and many options available etc. Bearing in mind the consequence of banking exams, Tara Institute provides proper planning with the best course and guidance with reviewed study material for effective planning to clear the exam.
Tara Institute is one of the best institutions to provide banking coaching in Delhi.  We have produced the best results in the banking sector.  Our First Priority is experienced & expert faculties of all subjects. As well as, updated & comprehensive study material with the exam-oriented online & offline mock test series. Experienced teachers provide Personal attention to each and every student.
Alongside with best set of faculty and best infrastructure of each branch, we are offering the well-researched and meticulously prepared study materials and another study supports online or offline. It's important to get guidance under one of the most Effective bank coaching modules. And get the best career guidance and motivational session by the field expert. Comprehensive analysis after every mock test which has aimed to strengthen concepts of subject and prepare the student for exams. Test series is updated as per the latest exam pattern with questions spread across different subjects and specific topics. Give a Pace to your career with Banking Coaching in Delhi and become an integral part of the banking sector.
Eligibility Criteria for Banking Exam
Altogether Banks will specify their own admissibility/ qualifying criteria for candidates. Nevertheless, merely smearing for CWE appearing for the examination does not make sure that a candidate will essentially be entitled for service in all or any of the 19 Public Sector Banks after clear the written examination.Entertain note that the entitlement criteria specified is the uncomplicated criteria for applying to numerous Public Sector Banks in India. Potential Candidates should ensure that they fulfil the specified eligibility principles before applying for the different banking exam.