Navy SSR Coaching in Delhi
Best Coaching Institute For Navy SSR ExamA career in defence is full of challenges but the prestige and pride it instills are worth considering, so lots of candidates aspire to join this glorious sector. Every candidate who wants to make his future in the Indian Navy can apply for various exams organized by the Navy. The Navy SSR exam provides an opportunity to the young aspirants to fulfill their courageous dream.Tara Institute's Navy Senior Secondary Recruit (SSR) coaching has earned respect by consistently ranking among the top 5 coaching institute for Indian Navy Senior Secondary Recruit (SSR) exam. Tara Institute's unique exam preparation techniques make it the best institute for Navy Senior Secondary Recruit (SSR) examination. This academy is an Indian Navy Senior Secondary Recruit (SSR) coaching institute built on the values of invoking confidence and self-awareness in the students.Searching for the information related to Navy SSR exam? Well, you do not need to search anymore. We have gathered all the relevant information –
Navy SSR Exam
SSR or Senior Secondary Recruit Examination is held to find young and dynamic candidates who can join the navy as fearless sailors and take this position full of immense responsibilities.
Tara Institute proudly ranks among the top 5 institute in India for Navy Senior Secondary Recruit (SSR) exam preparation. For best results in the Navy Senior Secondary Recruit (SSR) examination, you must rely only on the best coaching classes of Navy Senior Secondary Recruit (SSR) exam. Exam preparation is all about the right guidance and dedication. For this reason, you should place your trust in Tara Institute, the best institute for Navy Senior Secondary Recruit (SSR) and a highly popular tuition centre among the Top 10 coaching classes for Navy Senior Secondary Recruit (SSR) exam.
Qualification
The candidate must have passed 10+2 or any equivalent examination with Maths and Physics as major subjects and either Chemistry, Biology or Computer Science as an optional subject.
Age
The eligible candidate should be aged between 17-21 years on the date of enrolment.
Exam frequency
The Navy SSR exam is conducted twice a year to find the eligible candidates. All the notifications related to the exam are released both in online websites and in the newspapers.
Selection criteria
The candidates' selection is made on the basis of their performance in the online test, physical fitness test (PFT), and medical examination.
Exam Pattern
The question paper will consist of MCQ's and will be bilingual (Hindi/English)
The Question Paper will be divided into four sections i.e. English, Science, Mathematics and General Knowledge
The standard of the question paper will be that of 10+2
Duration of question paper will be 60 minutes
The candidates will have to clear each section separately and in aggregate
Coaching For Navy SSR Exam
For proper guidance and best study material, it is vital to choose the right coaching institute for navy SSR exam. Tara Institute is one of the leading institutes providing Navy SSR exam coaching. The mentors of Tara institute provide useful exams tips and guides to cover the entire syllabus in the available time.
Due To The Impact Of COVID – 19, We Decided that We will not Provide classroom Studies or offline classes till Lockdown Period, Because Our Prime Minister Told That "JAAN BHI OR JAHAN BHI" And We Understand the Value of Education so we have Decided that we will Provide you LIVE Classes For Navy SSR Exams Preparation, So join our Online Video Lectures for Navy SSR Exams Preparation, Our All Faculties are Ready for Virtual Classes Or Recorded Video Lectures For Navy SSR Exam.
Regular Course For Navy SSR 1 & 2/2020 going to start Online Video Lectures from:-
1st June 2020
15th June 2020
1st July 2020
15th July 2020
1st August 2020
19th August 2020
1st September 2020
For Details Call Us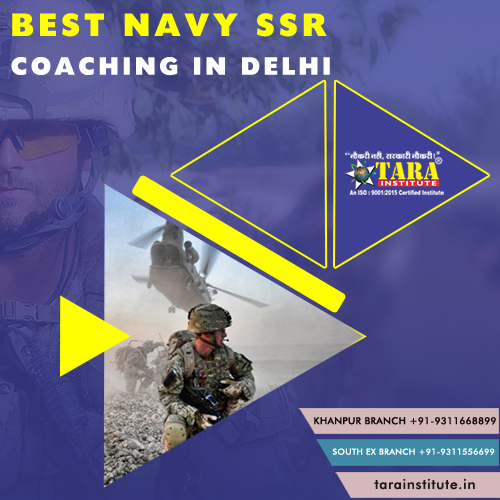 You may choose between a regular course that provides in-depth preparation or crash course that covers the entire syllabus in short span of time. To fit in the position of a sailor, you'll have to go through a lot of technical training. Our experts accustom you to all the technicalities in advance by sharing their experience along with imparting subjective knowledge. Apart from preparing for the written exam, we also prepare you for other steps. Our experts provide useful examination tips that can help you to clear the examination. We also have our institute's App that notifies upcoming exams and contains exam preparation modules.
Free Online Test Series – available on the web and on our app
Free Offline Test Series – available on the web and on our app
Group discussion and Personal Interview tips
Navy SSR Exams Preparation Tips
Complete Study Material for Navy SSR exam
E-study Facility
Updates of Navy SSR exam vacancy and Form
Free Navy SSR exam Preparation Coaching Classes for Specially-Abled and Fatherless Students
Best Available Bilingual Navy SSR exam Study Material & Test Series in English & Hindi
Tara Institute is one of the top 5 coaching institutes in India for Navy SSR exam due to our study materials which focuses on important topics and give you a thorough practice via test series. The online test series and offline test series can be accessed from our mobile app or from our website. Our faculty members have a unique teaching method that is exam-specific. We offer the special discount for meritorious students. We also offer 100% fee concession to the fatherless and handicap students.

Our study center in Delhi and Mumbai rank among the top 10 coaching of Navy SSR exam with all the latest education technology making it the top choice for the best coaching for Navy SSR exam.

Please do not lose precious time! Join our high-achieving academy to accelerate your career and get the best Navy Senior Secondary Recruit (SSR) exam coaching classes. Our tuition study centers are fully equipped with top educational facilities to prepare you in every aspect of the Navy Senior Secondary Recruit (SSR) exam.

Get in touch with your nearest Tara Institute tuition center and get enrolled today.

Hurry! Seats filling fast due to high demand!