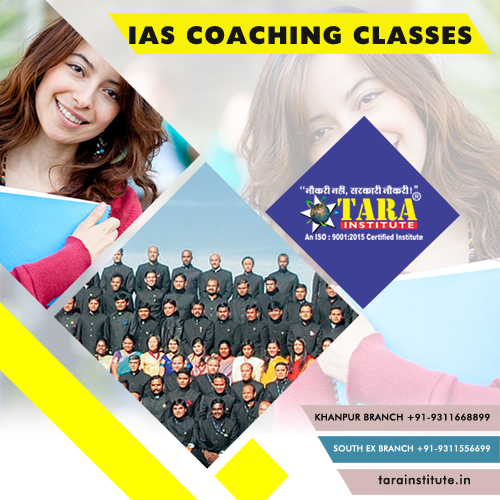 IAS Coaching Register today for the perfect Classes of UPSC Exams Preparation at Tara Institute
Worried about your Classes of UPSC Exams Preparation in Delhi! Leave all your worried apart and rush to book your seat for the best Civil Services Examination coaching classes with the maximum flexibility.
If you are determined, success is assured at Tara Institute in India. We encourage students to stay motivated and choose from the Indian Police Services (IPS), the Indian Foreign Service (IFS) or Indian Administrative Services (IAS).
Limitless Growth Opportunities
UPSC popular as the Union Public Service Commission invites applicant from all over the nation to apply for the Civil Services Examination.
A good coaching institute of civil service preparation can open your door to the endless success. You can trust us for the IAS coaching and fulfil your dream of scoring good results.
Examination Pattern
UPSC has divided the Civil Services Examination in:
Preliminary Examination
Compulsory papers – 2 of 200 marks each
Main Examination
It will include:
Paper – A of 300 marks
One Indian Language that can be chosen from the list of the Languages in the Eighth Schedule of the Constitution
Paper‐ B is English which comprises of 300 marks
Detail of Civil Services Exam
Paper
Subject
Maximum Marks
Paper-I
Essay
250
Paper -II
General Studies-I (Indian Heritage and Culture, History and
Geography of the World and Society)
250
Paper-III
General Studies-II (Governance, Constitution, Polity, Social
Justice and International relations)
250
Paper-IV
General Studies-III (Technology, Economic Development,
Bio-diversity, Environment, Security and Disaster Management)
250
Paper-V
General Studies-IV (Ethics, Integrity and Aptitude)
250
Paper-VI
Optional subject Paper-I
250
Paper-VII
Optional subject Paper-II
250
Sub total
Written Test
1750
Personality Test
275
Grand Total
2025
Eligibility Criteria for Civil Services Exam
Educational Qualification:  A minimum of graduation degree or equivalent qualification is mandatory. Final year degree candidate can also apply.
Age Limit: The minimum age is 21 years and maximum for the general candidate is 32 years. There is age relaxation for the different category of the candidates.
Nationality:Only Indian citizen are eligible for the Indian Administrative Service and the Indian Police Service.A candidate for the other services can be either:
a citizen of India, or
a Tibetan refugee
a subject of Nepal, or
a subject of Bhutan
Why Choose Tara Institute for the Classes of UPSC Exams Preparation?
Tara Institute is one of the top options for classes of UPSC Exams preparation
We also have doubt clearing sessions so as to aid in the preparation of the students
 Our faculty members have a unique teaching method
Providing you with benefits like online test series and offline test series
Providing you a good infrastructure as a trusted IPS coaching institute
Choose the Best Civil Services Examination Coaching Classes in India

Students from the every nook and corner reach us as the top coaching institute of civil service preparation. Our faculties providing IAS coaching prepares easy to understand study materials for our devoted students.

Our best Civil Services Examination coaching classes are all about the recent ongoing trends. Once you start preparing with our renowned faculty you will feel that civil services are very easy to clear.

At Tara Institute, you are facilitated the choice between regular and crash courses. But regular classes are recommended for the best Civil Services examination coaching classes.

 

Choosing smartly the IPS coaching institute is of prime importance. We provide excellent course material and tutorials for coaching classes for IAS and IPS coaching.

Meet us today at Tara Institute to get enrolled for the classes of UPSC Exams preparation from any corner of India!

IAS coaching is a big business in Delhi. This is because a large number of Tara Institute candidates come to Delhi to enrol them in one such institute. They are motivated by the fact that Delhi alone has to the best coaching colleges in India.

Remember who you are on viewpoint to select between the best IAS Coaching centre in Delhi, mid the fact to differentiate between those that are yield making shops or there is individual passion of the tutors involved in setting up such academy.

IAS coaching fees in Delhi

There is not much change when it comes to fees for IAS coaching institute from other cities. The fees kind from Rs 1.25 lakhs to Rs 1.75 lakhs for top institute who have good status. The fee structure is calculated on the basis of the package, subjects, library facility. But there are some centres who offer lesser than others. Almost all the centres offer frequent mock tests and practice of previous years' question papers joint with the expert guidance on each subject chosen in IAS exam.