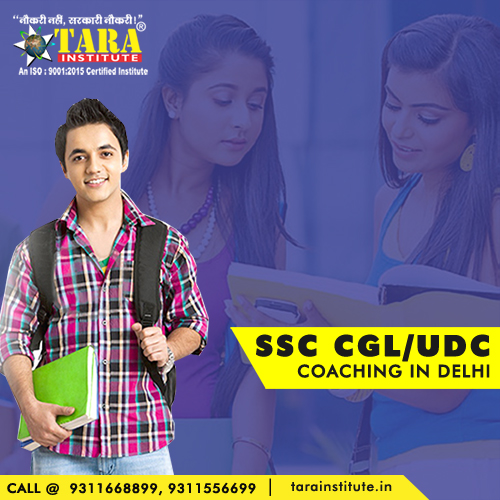 SSC CGL Coaching in Delhi (staff selection commission combined graduated level)
To attain success in every field, it becomes evident for an aspiring candidate to follow a careful and deep analysis of the fundamentals and the concepts covered in the stream. As the aspirant is always ready to explore new horizons in his career, he always looks for possible means of gaining knowledge and skills. With the SSC CGL Coaching in Delhi, students can easily attain the highest positions by honing the relevant skills and knowledge at our study centre. The coaching will offer the desirable learning sources to the aspirants through which he can learn various aspects of learning, suiting to his career choice.
SSC (Staff Selection Commission) is the way to enter Indian Administration department that helps in recruiting the eligible candidate for various posts. SSC CGL coaching classes in Delhi will provide you with the steady stand that let you pick a recognizable position in the Government specialized centre. We offer you with detailed and intensive practice sessions followed with guidance under specific industry experienced personnel that will let you achieve your career goal with a smooth runway.
With the sole application of SSC CGL, you can apply to various posts and designations offers by Administration of India. With precise information and relevant guidance over your career growth you can touch new levels of horizons.
SSC CGL Coaching Classes in Delhi
Here, at Tara Institute, we offer best SSC CGL coaching classes and offers the best approach to the students to scratch the best learning aid out of the piles of prospective choices. We are the leading coaching in Delhi that is dedicated towards offering an exceptional platform to the students to nurture their strong points and diffuse their weaknesses.
With the top SSC CGL coaching in Delhi, the student can find the best-in-class learning environment that helps in establishing a strong foundation for a secured future. Our top SSC CGL coaching classes assist the candidates in following a well balanced time management schedule that results in turning them into future leaders.
There is negative marking of 0.50 marks for each wrong answer in Tier-I. In Tier – II, there is negative marking system will remain unchanged.
SSC CGL Selection Procedure: Staff Selection Commission CGL selection procedure will be based on the following four phases: –
Tier 1 (Preliminary) – Written Examination (Objective Multiple Choice Type)
Tier 2 (Mains) – Written Examination (Objective Multiple Choice Type)
Tier 3 (Descriptive Test) – Essay / Passage / Application / Letter Writing
Tier 4 (DEST/CPT) – Computer Proficiency Test / Data Entry Skill Test / Document Verification
Why choose us?
We are the pioneer in handling the growing demand of the students who are preparing hard for the SSC CGL exam and looking for high quality and result oriented guiding additives.
We prepare the students with the target to make 100% output in their study endeavor. We make sure that every student achieves what he is targeted to.
We care about every little doubt face by the student, thus, maintain the student support system even after the completion of the course.
We offer best coaching classes for SSC CGL in Delhi and ensure complete satisfaction of the student on account of gaining targeted position in the posts offered by the Government of India.
We offer best coaching classes for SSC CGL in Delhi and ensure complete satisfaction of the student on account of gaining targeted position in the posts offered by the Government of India.
We do offer the crash course for SSC CGL exam preparation and maintains the customized approach of learning possible for those who want to achieve a growing and reputed career choice in the Government sector
Tara Institute the best academy to get trained from for the upcoming SSC CGL examinations. Being included among the top 5 learning centres for different government and non-government entrance examinations, we are often the first choice for many SSC CGL aspirants. Our talented pool of faculty members follows a unique teaching method that is sure to increase your chances of getting selected.
Tara Institute offer both a regular course and a crash course to help different SSC CGL aspirants prepare in the right direction. Our tuition centre is ranked on top of the list of top 10 learning institutes for SSC CGL examinations, so you can always rest assured on our qualitative teaching methods. Every student is different and our innovative learning techniques tend to bring out the best of every single aspirant.
Why Us?
We offer top-notch study material that is both comprehensive and precise.
Online & offline test series is conducted to improve preparation of each student.
Timely syllabus is guaranteed.
High student success rate is assured and much more.
SSC Combined Graduate Level Examination Eligibility Criteria
We are guiding students for last many years successfully for SSC CGL Exam Coaching in Delhi. Students must be graduate or in final year of graduation, when they are applying for SSC CGL Coaching as it is essential qualification required by SSC. Since the Staff Selection Commission (SSC) conducts open examinations regularly for the large number of vacancies. Graduate Level Exams– Assistants, Auditors/Jr. Accountants/Upper Division Clerks, Divisional Accountants, Inspectors of Income Tax/Central Excise, Sub-Inspectors in Central Police Organisations (CRPF, BSF, CISF, ITBP and SSB) and the CBI, Section Officer (Commercial) and Section Officer (Audit). Students can take admission in our any study centres of Delhi for the preparation of SSC CGL, SI in CPO Coaching.
Age Limits: 
The age limits are different for different posts and are to confirmed from the Notice of exam published in the Employment News / Rozgar Samachar. Generally, the age limits are 18 to 27 years. So the Students whose age is between 18 to 27 years can join our classroom program for SSC CGL Coaching in Delhi.
The age relaxation in the upper age limit for SCs/STs is 5 years, for OBCs it is 3 years and for physically handicapped candidates it is 10 years. For widows, divorced women and judicially separated women, the age limit is 35 years for UR category; 40 years for SC/ST women and 38 years for OBC women. The Notice of the Exam may be consulted regarding age relaxations for Ex-servicemen and Departmental candidates. Fees: SC/ST, physically handicapped and Ex-servicemen candidates are exempted from payment of fees.
Join Tara Institute in Delhi for best SSC CGL Coaching Classes in Delhi, India.
In SSC CGL Classroom Coaching Program, Students are in Delhi Centres.
Tara Institute is the best SSC CGL coaching in Delhi, Join Tara Institute for SSC CGL exams preparation, best coaching institute for SSC CGL in Delhi. Join us to know more about how to prepare for SSC CGL Exam, SSC CGL Coaching in Delhi NCR.
Tara institute is one of the best coaching center for SSC (Combined Graduate Level Exam) in Delhi.
In the past few years, the recruitment examination conducted by the SSC (Staff Selection Commission) has become more and more competitive. Tara Institute offer various SSC coaching programs to ensure you prepare for SSC CHSL and SSC CGL exams. Our SSC CGL Test Series provides the most comprehensive set of mock tests designed by our expert's panel and all test is based on the latest exam pattern. With the expert analysis after every mock test, you can understand your strong and weak areas and formulate your test-taking strategy.
SSC Combined Graduate Level Exam (SSC CGL) is one of the best exam and Quite often they are in search of SSC Coaching. Find the best SSC CGL Coaching in Delhi, India. For those students quality SSC CGL Coaching is absolutely imperative.
Since the beginning, Tara Institute's students have performed extra ordinary result and have shown unparalleled selection record in SSC CGL Exam. Counted among the best Coaching Institutes for SSC CGL in Delhi
If you are seriously looking for SSC CGL Coaching in Delhi, you need not look any other else as you have come in contact with one of the finest SSC CGL Coaching Classes in Delhi, call Tara Institute Now or Fill the Query form.
Tara Institute one of the best coaching institute for preparation of ssc cgl exam. We provide best SSC CGL coaching in Delhi and best update materials, experienced & trained teachers, free study materials and more. We at Tara Institute® are pleased to introduce ourselves to you. Tara Institute® is a leading Brand specially for SSC CGL competitive examinations. We provide the best Section Wise Test Series for SSC CGL Exams curated by ours Experts. The SSC CGL Mock test series are based on the latest pattern and syllabus which give students hands-on experience for appearing in exams of SSC CGL. We have more than 450 test series including Topic wise, weekly and previous years of SSC CGL Examination. These tests increase accuracy and speed of the students to crack SSC CGL Examination.
We at Tara Institute® would be happy to Provide the best and highly experienced faculties in SSC CGL Exams Preparation field. Faculties gives Proper guidance to do a precise syllabus practice. Tara Institute® is  offering an exclusive batches to the students for SSC CGL Exams Preparation at a minimum Fee. Tara Institute® provide 200 MCQs tests of Monthly Current Affairs as divided in 4 tests including 50 questions each test on Exams Pattern of SSC CGL and Monthly Current Affairs E-Magazine in PDF forms which are totally free on our website and Android App which is also available free on Google play store. Current Affairs are very important for SSC CGL Exams. Since 2007 Tara Institute® has been working in the same Education industry of India, it would be great if you could call us for more details for SSC CGL Exams.