Top Coaching Institute in India for the Navy Artificer Apprentice (AA) ExamAspirants who intend to become sailors in Indian Navy have to clear recruitment procedures of the examinations. Artificer Apprentice is a technical position in Indian Navy.Tara Institute's Navy Artificer Apprentice (AA) coaching has earned fame and respect by consistently ranking among the top 5 coaching institute for Indian Navy Artificer Apprentice (AA) exam. Tara Institute's unique Navy Artificer Apprentice (AA) exams preparation techniques make it the best institute for Navy Artificer Apprentice (AA) examination. This academy is an Indian Navy Artificer Apprentice (AA) coaching institute focusing on building a solid foundation and providing deep and in-focus training.
If you are searching for information related to Navy AA exam then you are at the right place. We have collected all the requisite information related to the exam for your reference –
Navy AA Exam
Navy AA exam is organized by Indian Navy to find those dynamic candidates that can join the force as sailors. The successful candidates go through technical training and then take the responsible position of a sailor.
Tara Institute proudly ranks among the top 5 institute in India for Navy Artificer Apprentice (AA) exams preparation. For best results in the Navy Artificer Apprentice (AA) examination, you must rely only on the best coaching classes of Navy Artificer Apprentice (AA) exam. Exam preparation must not be taken lightly because your career depends on it. For this reason you should place your trust in Tara Institute, the best coaching institute for Navy Artificer Apprentice (AA) and a highly popular tuition centre among the Top 10 coaching classes for Navy Artificer Apprentice (AA) exam.
Qualification
Candidates should have passed 10+2 or equivalent examination with 60% or more marks in aggregate. The candidate should have studied Maths and Physics and either Chemistry, Computer Science or Biology at 10+2 level. The intermediate or equivalent course should be pursued from an educational board which is recognized by central /state government.
Age
The candidate should be between 17-20 years of age as on the date of enrollment.
Exam frequency
This exam is conducted twice in a year and the notifications are released in the newspapers and across the web. You can also check our institute's app for the notifications.
Selection criteria
The candidate's selection is made on the basis of written test, physical fitness test (PFT), and medical examination.
Exam pattern
The question paper will have multiple choice questions set in both English and Hindi
The question paper will be divided into four sections- English, Science, Mathematics, and General Knowledge.
The standard of the question paper will be of 10+2 level.
The duration of the question paper will be 60 minutes.
The candidates are required to clear all the section separately and in aggregate.
Due To The Impact Of COVID – 19, We Decided that We will not Provide classroom Studies or offline classes till Lockdown Period, Because Our Prime Minister Told That "JAAN BHI OR JAHAN BHI" And We Understand the Value of Education so we have Decided that we will Provide you LIVE Classes For Navy AA Exams Preparation, So join our Online Video Lectures for Navy AA Exams Preparation, Our All Faculties are Ready for Virtual Classes Or Recorded Video Lectures For Navy AA Exam.
Regular Course For Navy AA 1 & 2/2020 going to start Online Video Lectures from:-
1st June 2020
15th June 2020
1st July 2020
15th July 2020
1st August 2020
19th August 2020
1st September 2020

For Details Call Us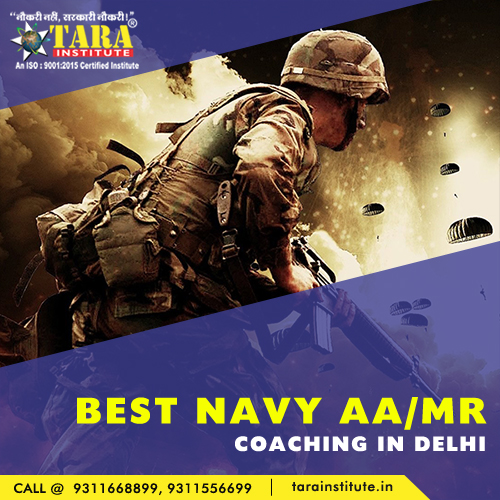 Top coaching for Navy AA Exam at Tara Institute
To clear the exam of the artificer, the candidates need to be both physically and mentally strong. We provide all-round preparation for the Navy AA exam. Our study material is prepared by experts who have been serving in the industry for over decades. The position of a sailor is full of challenges and responsibilities as it requires both technical and subjective know-how. We make sure that you gain both the field-related knowledge and subjective knowledge after enrolling into our courses.
Expert and Specialized Faculty.
Best faculty members.
Highly experienced and trained teachers.
Supportive and helpful teachers.
Motivation and discussion sessions.
Modern equipments and classrooms.
Doubt clearing sessions.
Updated study materials and notes.
Regular test series.
Online and offline tests.
Mock series.
We are one of the top 10 coaching institutes for Navy AA exam with remarkable success rate. Our faculty members have a unique teaching method that is exam-specific. Different exams have different patterns, so each and every section whether Science of General awareness is taught in accordance with the type of exam. Apart from the regular course you can also opt for a short crash course. We also provide useful tips and preparation for group discussions and personal interview, so that you do not lack in any sphere. We have special discounts for the meritorious students and we provide 100% fee concession to the fatherless and handicap students. We also have our institute's app- Tara Institute App that notifies you about upcoming exams and has tools for self-preparation. Our offline test series and online test series available in the mobile app and web further help you in your preparation.

Do not lose any more time! Join our high-achieving academy to boost your career and get the best Navy Artificer Apprentice (AA) exam coaching classes. Our tuition study centres are fully equipped with advanced educational facilities to prepare you in every aspect of the Navy Artificer Apprentice (AA) exam.

Our study center in Delhi and Mumbai are proudly ranked among the top 10 coaching of Navy Artificer Apprentice (AA) exam in India. Our consistent results make us the top choice for the best coaching for Navy Artificer Apprentice (AA) exam.

Get in touch with your nearest Tara Institute tuition centers and get yourself enrolled today.

Due to high demands, limited seats are available. Hurry!