Best coaching of NDA exams top classes for AFCAT CDS centre S. I. Delhi police in Delhi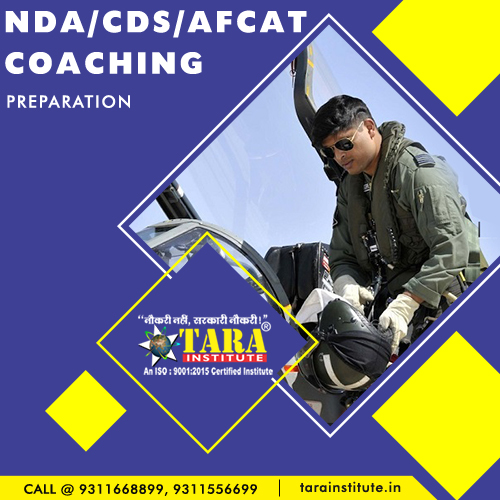 Thousands and thousands of students are applying to participate in National Defense Academy (NDA) entrance exam, combined defense service (CDS), air force common admission test (AFCAT), sub inspector (S.I.) Delhi police and many other competitive examinations . But to crack the exam you need to prepare yourself 100%. And for this you need proper guidance and training. Join Tara Institute for proper guidance and training in New Delhi.
Our students are our fame, we teach across Delhi like: East Delhi (Laxmi Nagar), Mukharji Nagar,Rohini, Faridabad, Guru gram, Ghaziabad (UP), BadarPur, Munirika, South Delhi, North & West Delhi.
NDA entrance exam is conducted twice every year by UPSC, New Delhi for unmarried Indian male citizen whose age is between 16 and half to 19 years and passed 12th board exam. There are many coaching centers in Delhi but Tara institute is an exception. Tara institute has a faculty of professionals who provides the best possible. Tara institute is growing day by day with its student's success rates. Tara institute is known as one of the best for NDA preparation.
Khanpur Centre
Address: F-34, First Floor,Near PNB, Devli More,
Khanpur, New Delhi-110062
Mobile No. :- 9999265274
Phone No. :- 011-64644952
South Ex-01. Centre
Address: H-60, Basement, Near Bengali Sweets,
South Ex, Part-1, New Delhi-110049
Mobile No. :- 9999265274
Phone No. :- 011-64624953