SBI Clerk Coaching in Kolkata
SECURE YOUR POSITION WITH THE
BEST SBI CLERK
COACHING CENTRE IN INDIA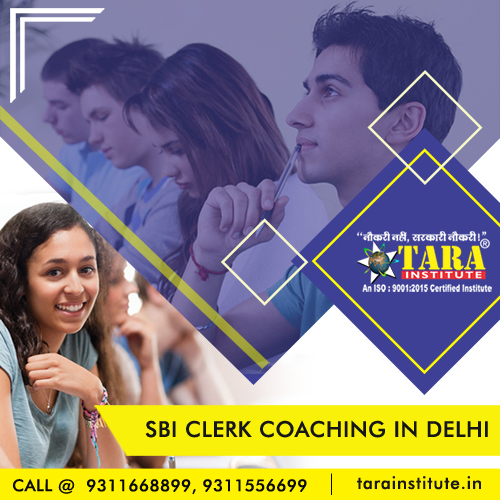 AN OVERVIEW:
The overwhelming craze over banking jobs amongst the freshers from the last decade is nothing new. In this hour of cut-throat competition the banking sector's multi – faceted perks of 'job security', annual allowances, fixed office timings and a great work profile all have ensured that this popularity grows higher with each passing day.
SBI CLERK is one such competitive exam that opens up the flood gate of this golden opportunity to work as a government official in the banking sector. However, achieving this is an onerous task.
In order to make it simple and easy, our best heritage TARA tuition centre for SBI CLERK in Kolkata, West Bengal has meticulously crafted the most scientific and result oriented curriculum to ensure our students success in the exam.
AN INSIGHT:
SBI CLERK is a national level competitive exam conducted annually for the recruitment of executives for the post of clerical cadre for different branches of the bank, nationwide.
EXAM PATTERN:
The competitive has two levels of test; the prelims and the mains. The successful qualifying of the prelims ensures the eligibility to sit for the mains.
The following are the subjects from which the test (both prelims and mains) has got questions to offer:
English Language
Quantitative Aptitude
Reasoning Ability
General/Financial Awareness
Computer Aptitude
WHAT MAKES US STAND OUT?
To our credit we have an assurance of the maximum percentage success.
We have the reputation of being the
Our course materials are comprehensive and intuitive in approach.
Our approach to study is result- driven.
Our teaching faculty is highly qualified with the maximum years of industry experience
Our classroom teachings are interactive and insightful rendering faster assimilation.
We have 24/7 online tutorials and online test series for providing flexibility to students.
We are an ISO 9001:2015 certified institute.
WE STRIVE TO REAP THE BEST TALENTS:
'It is the supreme art of the teacher to awaken joy in creative expression and knowledge'. And we are staunch believers of the same. Thus, in order to reap the best of the talents in town, this is our endeavor.
Scholarships for physically challenged students
(More than 50%)
Online App for every subject.
Free of cost guidance and coaching opportunity to fatherless students.
For easy anchorage, we have built our exclusive app for our students. Here, you can get all the updates about our institute and each and every subject anytime. All you need to do is download it from the Google Play store.
Students from places like garia, dum dum, beck bagan, central depend on us for their career.
WHEN ARE YOU COMING ONBOARD!