LLB Entrance Coaching Classes in Kolkata
LLB Entrance Coaching Classes in Kolkata from Tara Institute
More on LLB Entrance Exam
Choosing a career path of the lawyer holds a tedious and determined road for any aspirant. The admission to LLB course can be sought through various entrance examinations conducted at state level and national level. The popular entrance exams conducted are CLAT and AILET. In order to get an admission into a good law college of the country, you are required to clear the CLAT exam with a good rank. One center that can make sure you get your success is the academy of excellence of Tara Institute.
Career Opportunities for LLB Entrance Aspirants
A LLB candidate can opt for the various career options including a Barrister, Company secretary, Paralegal, Barrister's clerk, Detective, Chartered legal executive, Solicitor, Licensed conveyance, and many more good earning roles and profiles.
Eligibility for LLB Entrance Exam
For Three-year LLB entrance exams
• A candidate must be at least 17 years of age
• A graduation degree with 45% marks (40% for reserved category)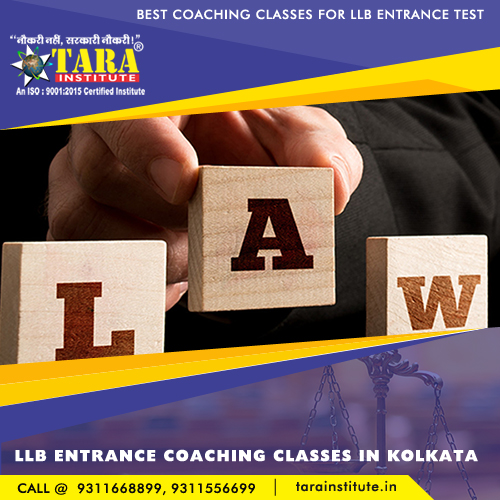 Key Advantages of LLB Entrance Coaching at Tara Institute

We hold a good record for our classes for LLB entrance exam and have delivered students with top 10 ranks. If you want to achieve success in your next CLAT attempt then join the best tuition center in India and prepare with their experienced and amazing teaching methods in our Institute of LLB entrance exam in Durgapur.

Our institute for LLB entrance exam in Asansol has been chosen by the number of aspirants of the city as their preferred institute of CLAT entrance exam. Our coaching for CLAT exams is taught by the best faculties known for their unique teaching methods and equipped study materials.

Our coaching for LLB entrance exam in Salt Lake is one of the top 5 centers in the city and is highly famous for its coaching of various subjects separately in the CLAT preparation.

Our institute for for LLB entrance exam in Kolkata is known for its online test series and offline test series aiding them in judging their preparation level for the coming CLAT exam.

We at Tara Institute understand that the need of every student is different and so all our centers including our center for classes of LLB entrance exam in Bardhaman offer the students with choices for regular courses and crash courses.

Our center of coaching for LLB entrance exam in Salt Lake is highly student centric and is a regular choice for such coaching in the city.

Now you can study at our West Bengal centers namely, the Institute for LLB entrance exam in Asansol and institute of LLB entrance exam in Durgapur and avail to all the benefits served at our branch in the capital.

Our centers for classes of LLB entrance exam in Bardhaman has saved the students from travelling to the capital for quality education at nominal fee.

If you want to experience some great learning sessions for your next LLB entrance attempt then our LLB entrance exam coaching in Kolkata is what will help you realize your dream easily.

Visit Tara Institute today!