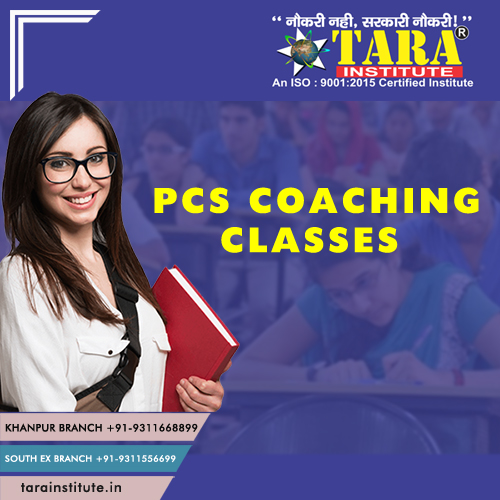 PCS Coaching Rush for the PCS Coaching at Tara Institute to Become a PCS Officer
As such, a huge number of candidates appear for the post of PCS officer and so there is a huge competition in PCS examination. The highly qualified instructors at Tara Institute teach candidates a few result-oriented practices that can help students live their dream of becoming a PCS officer.
The percentage of the applicant applying for Provincial Civil Services exams is constantly increasing because of the great benefits it provides to the talented candidates passing the examination. All these features make Tara Institute the best Provincial Civil Services Examination coaching classes an excellent place to take coaching for AFCAT entrance examination.
Rewarding Career After PCS
The life after you are selected in the PCS examination becomes stable. The chosen candidates are awarded the post of PCS Officer. They are offered the role of coordinator handling responsibilities at block level. The posting can be done anywhere in the state.
The promotion is also there after a specific period of time. PCS coaching institute Tara Institute can teach you all the techniques which will help you to crack your Provincial Civil Services examination. So, you should not miss this opportunity to take admission in our institute for PCS exams preparation to secure your future.
More On Provincial Civil Services (PCS):
The State Provincial Civil Services includes the three phases of the examination in total.
They are – the Preliminary, Mains, and the Interview.
The pattern of exam of PCS is similar to that of IAS examination
The questions in the papers are more based on facts
Paper based on regional language in certain states can be compulsory or the statistic paper.
The state government controls the monthly pay and pensions of all the PCS officers working on the different positions
Because the PCS are state based no transfer to another state is permitted
Compulsory Subjects for PCS:
| | | |
| --- | --- | --- |
| Paper | Subject | Marks |
| 1. | General Hindi | 150 |
| 2. | Essay | 150 |
| 3. | General Studies-I | 200 |
| 4. | General Studies-II | 200 |
| 5. | General Studies-III | 200 |
| 6. | General Studies-IV | 200 |
Eligibility Criteria:
Need to be a graduate or have equivalent degree from an education institution recognised by government
The minimum age is 21 years and the maximum age is 40 years for the candidates in general category. The relaxation in age is allowed to the reserved category of the applicants
Why Choose Tara Institute as the Top PCS Coaching Institute?
The devoted faculties at Tara Institute train candidates with the required skills and techniques needed for both the preliminary and mains of the PCS examinations. Tara Institute is one the premier institute that teaches many shortcut methods and techniques to its students during the best Provincial Civil Services Examination coaching classes which becomes important during the lack of time.
In addition, you can enjoy many other advantages during coaching classes for PCS:
Preparation under the guidance of industry experts
Pool of teachers devoted in imparting necessary training to PCS students
Benefit of specially developed study materials
Online test series and offline test series to support in the best preparation at the coaching institute of Provincial Civil service preparation
Tara Institute implements all the essential things to develop the required confidence in all PCS candidates. We are recognised today as the best PCS exams preparation coaching institute in India.

Tara Institute® is offering special batches to the students for PCS Written Exams Preparation at low cost. Tara Institute® Coaching Classes provide Monthly Current Affairs MCQs as divided in 4 tests including 50 questions each test it means total MCQs Monthly Question are 200 on Latest Exams Pattern of PCS and Monthly Current Affairs E-Magazine in PDF forms which are totally free on our website and Android App which is also available free on Google play store. Current Affairs are very important for PCS Entrance written Exams. Tara Institute® Coaching Classes is working in the same Educational field of India, it would be great if you could call us for more details for PCS Entrance Exams. Here you will also get the more details for PCS Coaching in Delhi.

Tara Institute® Coaching Classes are pleased to introduce ourselves to you as a old Brand of India for PCS Exams Preparation in Delhi. Tara Institute® Coaching Classes is a leading Brand specially for PCS Competitive examinations Preparation in Delhi. We provide the best Section Wise Test Series for PCS Exams curated by ours Experts. The PCS Mock test series are based on the latest pattern and syllabus which give students hands-on experience for appearing in exams of PCS. We have more than 500 test series including Topic wise, weekly and previous years of PCS Examination. These tests increase accuracy and speed of the students to crack PCS Examination. Our Study Materials are up to date as per New pattern of PCS Entrance written exams. Now you Google searching is ended here as which is the Best PCS Entrance Coaching in Delhi? Tara Institute® Coaching Institute Is the Best Coaching Institute for PCS Entrance Exams Preparation in Delhi. Join now for PCS Coaching in Delhi.

Support in the preparation with doubt sessions and personal attention is rendered only at the country most dependable PCS coaching Tara Institute.

Enrol right now without any delay to write your own success story by cracking the PCS examination with flying colours.