SSC Coaching Classes in Kolkata
Join the Top SSC Coaching Classes in Kolkata at Tara Institute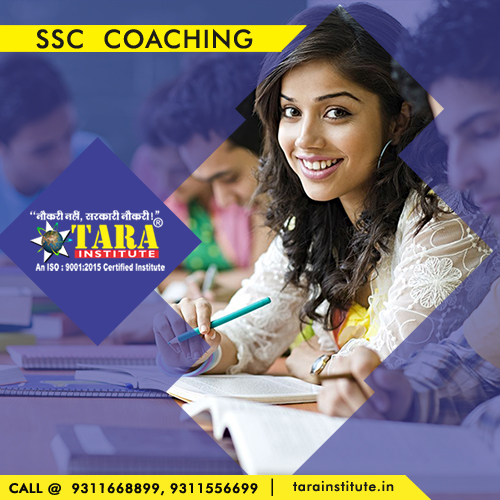 Government services are always in prime priority in our society. The job satisfaction, less hectic scheduled, proper holidays and regular incentives and so much more like extraordinary facilities on could only find with government service. Private sector is also a vital and one can cover feats by innovating new every day and could cover leaps with rapid improvement in salary or posts.But is always the public sector that provides security to your job and also most importantly leisure for the people. Though it is not easy to get a job in public sector, one has to clear test and has to prove his capability or talent to get into the sector.

About SSC Exam
SSC stands for Staff Selection Commission which is an organization of Govt. of India to recruit staff in various posts in the ministries and departments of Govt. of India and their various subordinate offices.

Career Opportunities for SSC Aspirants
Job profiles for a successful SSC candidate include Assistant Audit Officer [Indian Audit and Accounts Dept, Inspector (Preventive Officer) [CBEC], Inspector (Examiner) [CBEC], Inspector of Income Tax [CBDT], Inspector (Central Excise) [CBEC], Assistant (Ministry of External Affairs) , Assistant Enforcement Officer [Directorate of Enforcement, Department of Revenue]

Eligibility for SSC Exam
A Bachelor's degree from a government recognized University or Institution is must. Candidates in the last year of graduation are eligible to appear for SSC exam. The age bracket of 20 to 30 years is allowed to apply for SSC CGL Examination.

Advantages of SSC Coaching at Tara Institute

Tara Institute in Kolkata acclaims to offer the best SSC Coaching Classes in Kolkata from years. In the classes, we provide our student in-depth knowledge and detailed information about all subjects that are in curriculum of the examination.

At SSC Coaching Classes in Asansol classes are taken by the experts who have firm experience in the sector to deal with the students and to make them understand the insight of every topic. This gives our students a clear knowledge about the subject.

Coaching at SSC Coaching Classes in Bardhaman have covered students from many cities of West Bengal just to make sure that the students are getting relevant information and are clearing the exam with good grades.

The rising need of people for SSC Coaching Classes in Salt Lake have triggered the more and more services providers to enter in the market and to provide better services with affordable prices but Tara Institute is just unbeatable.

SSC students receive satisfaction by joining SSC Coaching Classes in Durgapur and enjoy the fruit of their labour by preparing under the guidance of our expert teaching faculties.

It is important to consider keenly all the study material your tutors of SSC Coaching Classes in Asansol is providing. One should learn and study regularly to ensure updating of the study material.

They should listen to the lectures of the tutors with great zeal and understanding at the SSC Coaching Classes in Bardhaman.

The SSC Coaching Classes in Salt Lake is there with the intent to provide satisfactory service to the SSC candidates through the raised competition in the society and also we ensure that there is a rise in the teaching quality for the candidates by our tutors and experts at academy.

The SSC Coaching Classes in Durgapur provides all the facilities like teaching expert, study material, test series, etc. so that the learning standard can be improved more for the students at Tara Institute.

Our well-designed online test series and offline test series are the important sources to make students practice well and develop confidence in mind before appearing for the actual examination in the hall.

Enroll today at Tara Institute for the top SSC coaching in Kolkata!