IBPS Clerk Coaching in Kolkata
MASTER THE ENTRANCE WITH THE TOP COACHING CENTRE FOR IBPS CLERK IN TOWN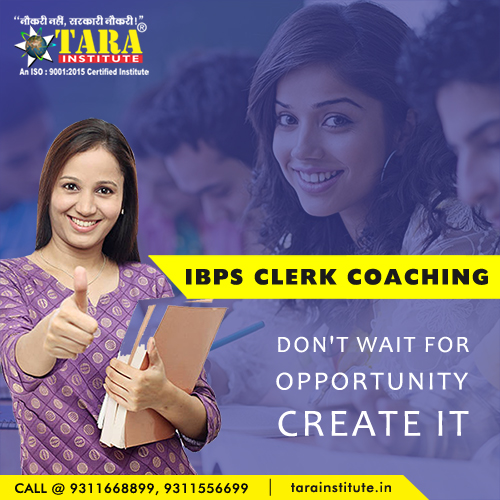 There is no doubt that government jobs are any day the 'Mecca Medina' for job seekers. And why not? With the unmatched level of comfort, security, perks and prestige that comes ones way; it is definitely one of the best choices of a person who seeks his future source of living scope in employment sector.
One such promising competitive exam is the IBPS CLERK EXAM that opens up a helluva of job scope in the banking sector. However, to achieve this prestigious post demands a lot of hard work, dedication, practice, and more importantly the right strategy of approaching the entrance paper.
Our best heritage tuition centre for IBPS CLERK has mastered the skill of imparting quality education, providing students a 360 degree curriculum in turn aiding to undoubted success.
AN INSIGHT OF THE CAREER:
IBPS CLERK EXAM is a national entrance test conducted by the Institute Of Banking Personnel Selection for the recruitment for the various posts of the staff of general office tasks annually.
ELIGIBILITY CRITERIA OF THE EXAM:
It is said that 'prevention is better than cure'. Thus, to excel in the competitive the first thing that you need to take care of is that you understand the essence of the exam and have all of its notifications on fingertips.
To start off let's get a clear idea of the eligibility criteria of the exam.
A candidate needs to be of the age group of 20-28 years.
A degree of graduation in any discipline under any recognized University by the government of India is a must.
A candidate should have knowledge in basic computer systems and operations holding a certificate as a proof.
A minimum of the ability of reading, writing, and speaking the official language of the STATE/UT is expected.
WHAT HAS GOT US OUR TOP POSITION?
Our coaching classes have maintained its top position with the highest success rates, nationally.
Our institute falls in the top 10 institutes in India for training of the bank clerk exam.
We have the most qualified and industry experienced teaching faculty aiding in the best assimilation.
Our curriculum is 360 degree and fully result-driven.
Our 24/7 accessibility to online test series are available for easy correspondence of the study materials which are exclusive for our students.
WE BELIEVE IN TRUE TALENTS:
50% scholarships are available for students with different physical challenges.
Online Android App available for each subject.
Tara institute provide scholarships to students who have lost a parent.
We have our own exclusive app for our coaching institute. All you need to do is download it from the Google app.
Currently, we have getting calls and messages of students from garia, bhawanipur, park circus, ballygunge, dum dum, behala etc. Our guidance has guided many to achieve their destinations.
We will most happy if we get a chance to be a part of your success story too.