What is IBPS Common Written Exam?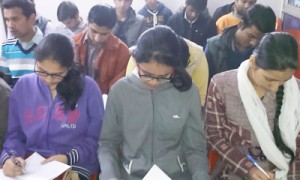 As the name specifies IBPS Common Written Exam is a Common Exam that is conducted by IBPS on the behalf of participating banks. It is worth mentioning here that in May, 2011 Government of India had approved the IBPS for conducting the recruitment exams on the behalf of banks. In this scheme of examination, IBPS invites online applications from the eligible candidates. After receiving applications, IBPS conducts a Common Written Exam (CWE). The Successful students in the CWE are then issued scorecards, based on which they can apply for Jobs in Public Sector banks.
IBPS PO Recruitment
Until March 2012, IBPS is conducting Common Written Exams only for 19 Public Sector banks.But in March 2012, IBPS had been given additional responsibility to conduct the Common Written Exam for Regional Rural Bank's and following these orders of Govt of India, IBPS decided to conduct the First Common Written Exam for 82 Regional Rural Banks in September, 2012 Now every one is waiting for IBPS Recruitment in 2013 As large number of bank employees are retiring in the coming 2-3 years, so there is huge requirement of Jobs in Public Sector as well as Regional Rural Banks and as such the IBPS decides to conduct the 5 Common Written Exams for Public Sector Banks every year and 2 CWE's for Regional Rural Banks. As such IBPS had no proper time table for conducting these Common Written Exams, so we cannot confirm the IBPS Exam Dates in 2013.The Dates for IBPS Recruitment 2013 will be decided by IBPS and will be communicated to candidates through Official Website.
Since IBPS Conducts the PO Exam twice an year. So we can expect the IBPS PO recruitment Notification to be published in January 2013. Although we are not confirming the dates, as the same will only be decided by IBPS. Students who wish to apply for PO Jobs in Public Sector banks will have to appear in the IBPS PO Common Written Exam in 2013. In order to appear in the IBPS PO exam, candidates must be a Graduate and lying in the Age Limit of 21- 30 years