SBI Clerk Coaching in Delhi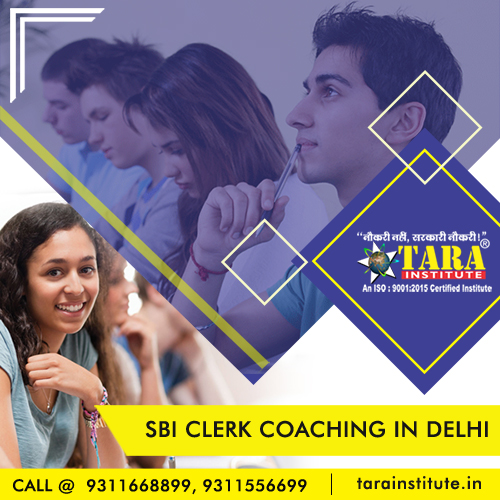 In recent updates SBI Clerk exams has scheduled and it have declared that Registered candidates can download SBI clerk admit card 2019 for prelims exam starting 02-03-2019 to till the exam date. Aspirant could download the admit card at the state bank of India's official website sbi.co.in. Besides Selected candidates in the prelims exam could download the admit card for main by 1-may-2019. As well as candidates could check the website regularly for latest updates and download the admit card by Login with registered ID/roll number and date of birth/password details available.
SBI Clerk 2018 Notification has been released but for post that they call as Junior Associate & Junior Agricultural Associate. Having over 10000 branches & 5000 branches of its associate bank spread across India, SBI is the oldest & largest public sector bank. It also has strong foreign presence with nearly 82 offices in 32 countries.
The news about SBI Clerk Recruitment 2018 was being expected for long & the announcement has come at a time when candidates were down after IBPS results & LIC AAO results die
And now it is the turn of SBI to pep up things with recruitment of 20,000 clerical cadre jobs. It is sure a jackpot for aspirants looking to enter govt banks.
SBI Clerk 2018 Important Dates
| | |
| --- | --- |
| Events | Dates |
| Start of SBI Clerk 2018 Online Application | 20th January 2018 |
| SBI Clerk 2018 Application Form Closes | 10th February 2018 |
| SBI Clerk 2018 Preliminary Exam | March-April 2018 |
| SBI Clerk 2018 Mains Exam | 12 May 2018 |
Eligibility for Recruitment
(A) Essential Academic Qualifications: (AS ON 01.01.2018)
Graduation in any discipline from a recognized University or any equivalent Qualification recognized as such by the Central Government.
Candidates having integrated dual degree (IDD) certificate should ensure that the date of passing the IDD is on or before advertisement the vacancy news.
Note
(a) The date of passing eligibility examination will be the date appearing on the mark sheet/certificate or provisional certificate issued by the University/Institute. In
case the result of a particular examination is posted on the website of the University/Institute, a certificate issued by the appropriate authority of the University/Institute indicating the date on which the result was posted on the website will be taken as the date of passing.
(b) Matriculate Ex-servicemen, who have obtained the Indian Army Special Certificate of Education or corresponding certificate in the Navy or Air Force, after having completed not less than 15 years of service in Armed Forces of the Union are also eligible for the post. Such certificates should be dated on or before advertisement the vacancy news.
(B) Age Limit:-
Not below 20 years and not above 28
SELECTION PROCEDURE: The selection process will consist of on-line test
(preliminary & main examination) and test of specified opted local language.
Phases of Examination
Phase 1 :Preliminary Examination: Preliminary Examination (online)
consisting of Objective Tests for 100 marks will be conducted online. This test
would be of 1 hour duration consisting of 3 Sections as follows:
| | | | | |
| --- | --- | --- | --- | --- |
| Sr. NO. | Name of Test | No. of Questions | Marks | Duration |
| 1 | English Language | 30 | 30 | 20 minutes |
| 2 | Numerical Ability | 35 | 35 | 20 minutes |
| 3 | Reasoning Ability | 35 | 35 | 20 minutes |
| | Total | 100 | 100 | 1 Hour |
Phase 2: Main Examination: The structure of main examination (online objective type) would be as follows.
| | | | | |
| --- | --- | --- | --- | --- |
| Sr. NO. | Name of Test | No. of Questions | Marks | Duration |
| 1 | General/Financial Awareness | 50 | 50 | 35 minutes |
| 2 | General English | 40 | 40 | 35 minutes |
| 3 | Quantitative Aptitude | 50 | 50 | 45 minutes |
| | Total | 190 | 200 | 2 Hours 40 minutes |
Phase III: Interview (subject to Govt of India approval)
Those who get clear the main exams will be called for personal interview.Since govt of India had advised banks not to conduct interviews for clerical cadre jobs, it is not known whether SBI will continue with interview or not.

The questions in objective tests, except for the test of General English, will be bilingual i.e., English & Hindi. There will be negative marks for wrong answers in the Objective tests. 1/4th of mark assigned for question will be deducted for each wrong answer.

Adequate number of candidates in each category as decided by the Bank (approximately 10 times the numbers of vacancies. subject to availability) will be short listed for the Main Examination from the list of all candidates arranged in descending order of aggregate marks scored. No minimum qualifying marks for individual subject as well as for aggregate (overall) are prescribed.

Download Notification

Candidates interested to apply for this 2018 SBI Clerk/ Junior Associates Recruitment must download the original notice from the bank website here (.pdf)