SBI Clerk Coaching in Delhi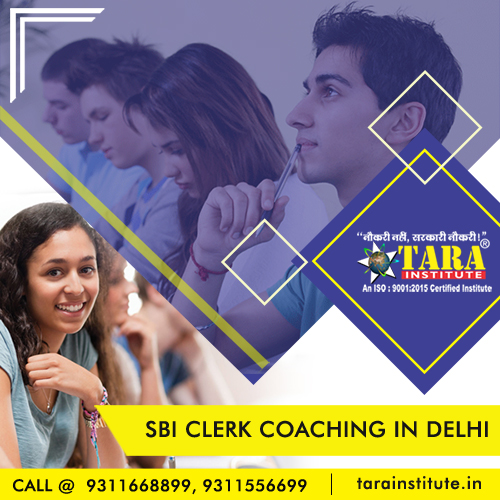 Tara Institute is the leading brand for SBI coaching in Delhi, Here you will get best faculties for SBI Clerk examination Preparation, we are expert for SBI Clerk Exam Preparation. For Sure Success call Us today or Visit our Nearest centre to you of Tara Institute.
PRE-EXAMINATION TRAINING: SBI may arrange pre-examination training at certain centres for SC/ST/XS/ Religious Minority Community candidates in consonance with the guidelines issued by Government of India. Candidates belonging to the above categories who desire to avail themselves of such training at their own cost have to apply online. An indicative list of training centres is given as "Annexure-I". The Bank may add additional centres or may delete some of the centres indicated for training. Candidates opting for pre-examination training should download their call letter for training by entering their registration number and password/date of birth from 04.02.2020 onwards from Bank's website. No hard copy of the call letter will be sent by post.
IDENTITY PROOF TO BE SUBMITTED AT THE TIME OF EXAM: The candidates must bring one photo identity proof such as passport/Aadhar/PAN Card/Driving License/ Voter's Card/Bank Passbook with duly attested Photograph/Identity Card issued by School or College/Gazetted Officer in the official letter head in original as well as a self-attested Photocopy thereof. The photocopy of Identity proof should be submitted along with call letter to the invigilators in the examination hall, failing which or if identity of candidates is in doubt the candidate will not be permitted to appear for the test.
SBI Clerk 2020 Notification has been released but for post that they call as Junior Associate & Junior Agricultural Associate. Having over 10000 branches & 5000 branches of its associate bank spread across India, SBI is the oldest & largest public sector bank. It also has strong foreign presence with nearly 82 offices in 32 countries.
And now it is the turn of SBI to pep up things with recruitment of 20,000 clerical cadre jobs. It is sure a jackpot for aspirants looking to enter govt banks.
      CALL LETTERS FOR EXAMINATION:
Preliminary Examination: The candidates should download their call letter and an "acquaint yourself booklet" by entering their registration number and password/date of birth from the Bank's website from 11.02.2020 onwards (Tentatively).
Main Examination: Candidates qualified for main examination would be able to download their call letter from the Bank's website (following the instructions available on the screen) from 2 nd week of April 2020 onwards (Tentatively).
NO HARD COPY OF THE CALL LETTER (PRELIMINARY/ MAIN)/ ACQUAINT YOURSELF BOOKLET WILL BE SENT BY POST.
 Eligibility for Recruitment of SBI Clerk 2020
(A) Essential Academic Qualifications: (AS ON 01.01.2020)
Graduation in any discipline from a recognized University or any equivalent Qualification recognized as such by the Central Government.
Candidates having integrated dual degree (IDD) certificate should ensure that the date of passing the IDD is on or before advertisement the vacancy news.
Note
(a) The date of passing eligibility examination will be the date appearing on the mark sheet/certificate or provisional certificate issued by the University/Institute. In
case the result of a particular examination is posted on the website of the University/Institute, a certificate issued by the appropriate authority of the University/Institute indicating the date on which the result was posted on the website will be taken as the date of passing.
(b) Matriculate Ex-servicemen, who have obtained the Indian Army Special Certificate of Education or corresponding certificate in the Navy or Air Force, after having completed not less than 15 years of service in Armed Forces of the Union are also eligible for the post. Such certificates should be dated on or before advertisement the vacancy news.
(B) Age Limit:-
Not below 20 years and not above 28
SELECTION PROCEDURE: The selection process will consist of on-line test
(preliminary & main examination) and test of specified opted local language.
SBI Clerk 2020 Important Dates
| | |
| --- | --- |
| Events | Dates |
| Start of SBI Clerk 2020 Online Application | 3rd January 2020 |
| SBI Clerk 2020 Application Form Closes | 26th January 2020 |
| SBI Clerk 2020 Preliminary Exam | February Or March 2020 |
| SBI Clerk 2018 Mains Exam | 19th April 2020 |
Phases of Examination
Phase 1 :Preliminary Examination: Preliminary Examination (online)
consisting of Objective Tests for 100 marks will be conducted online. This test
would be of 1 hour duration consisting of 3 Sections as follows:
| | | | | |
| --- | --- | --- | --- | --- |
| Sr. NO. | Name of Test | No. of Questions | Marks | Duration |
| 1 | English Language | 30 | 30 | 20 minutes |
| 2 | Numerical Ability | 35 | 35 | 20 minutes |
| 3 | Reasoning Ability | 35 | 35 | 20 minutes |
| | Total | 100 | 100 | 1 Hour |
Phase 2: Main Examination: The structure of main examination (online objective type) would be as follows.
| | | | | |
| --- | --- | --- | --- | --- |
| Sr. NO. | Name of Test | No. of Questions | Marks | Duration |
| 1 | General/Financial Awareness | 50 | 50 | 35 minutes |
| 2 | General English | 40 | 40 | 35 minutes |
| 3 | Quantitative Aptitude | 50 | 50 | 45 minutes |
| | Total | 190 | 200 | 2 Hours 40 minutes |
Phase III: Interview (subject to Govt of India approval)
Those who get clear the main exams will be called for personal interview.Since govt of India had advised banks not to conduct interviews for clerical cadre jobs, it is not known whether SBI will continue with interview or not.

The questions in objective tests, except for the test of General English, will be bilingual i.e., English & Hindi. There will be negative marks for wrong answers in the Objective tests. 1/4th of mark assigned for question will be deducted for each wrong answer.

Adequate number of candidates in each category as decided by the Bank (approximately 10 times the numbers of vacancies. subject to availability) will be short listed for the Main Examination from the list of all candidates arranged in descending order of aggregate marks scored. No minimum qualifying marks for individual subject as well as for aggregate (overall) are prescribed.

Download Notification

Candidates interested to apply for this 2020 SBI Clerk/ Junior Associates Recruitment must download the original notice from official website of SBI.

Join today Tara institute® In New Delhi for Best SBI Clerk Exam Preparation, we are in Top SBI Clerk Exam Preparation in Delhi, Our Faculties and Study Materials are up to date as per SBI Clerk Examination, Get Free of Coast Current Affairs Monthly E-Magazine for SBI Clerk Exams  Preparation from our website or download free android app from Google play. Here you will get free chapter wise test papers and mock test papers fore best result in SBI clerk Examination.