SSC MTS Multi Tasking Staff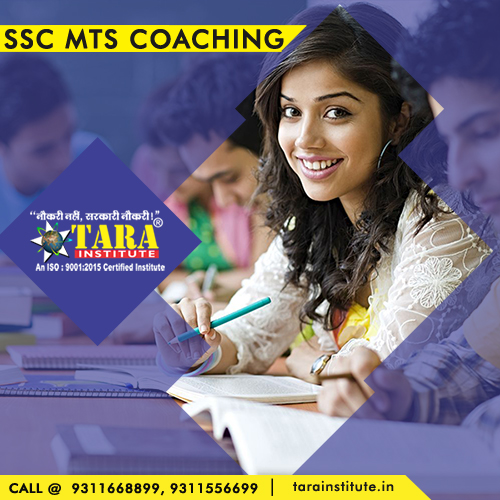 Enroll at Tara Institute for the Top SSC MTS Coaching in India
Those who are unconditionally sure from the start that they want to bring change as a part of the Central Government, taking SSC MTS exam is the right choice. Taking admission at India's best SSC MTS coaching Tara Institute will help the aspiring students achieve the goal.
Our institute has been established by a group of excellent and experienced academicians. Over the years we have imparted SSC MTS coaching to the students and helped them achieve their goal. Right from the beginning Tara Institute students have performed tremendously well and have shown high selection record in the different government sectors.
For you to secure good marks in the exam and clear the exam with flying colors your attitude regarding studies should be clear and your preparation should be through. Experienced faculty members at our top coaching Tara Institute will help you develop interest in learning and also will help you in increasing your self-confidence with explanation of all the syllabus which is going to be covered for the exam.
At Tara Institute, there are special doubt clearing session where the doubts of topic related to exam are cleared by the faculty members and by the expert respective subject teachers. This enables the students who are aspiring for the SSC MTS exam clear all their week points and discuss openly with the subject experts.
Also the teachers teach you tips and tricks for the exam which lets you solve the exam easily and within the stipulated time period. This gives you the confidence and keeps you motivated during the exam. You will be able to manage your time properly in the exam as these tips will help you to finish the exam faster at greater speed that usual.
Also the study material provided by our coaching is framed by the experts and subject matter specialist who are very learned and have years of experience in teaching. So they do this with the student's point of view which helps the students to understand the topic well. The batch size is also not very large so that proper attention can be given to all the students and their need as they are appearing for very tough exam. Personal attention is provided to all those students who need this attention for understanding certain topics.
Many mock papers and unsolved previous year papers are distributed to the students to increase the mathematical speed and understanding the pattern of the exam paper. This is very helpful for the students who are aspiring for the tough exam. Also the online and offline test series are distributed to the students so that they can increase their practice and become through with the exam pattern. All this papers also helps you to evaluate yourself that whether you are thoroughly prepared or need some more doubt clearing session with the faculty members.
Thus, Tara Institute is the best choice for the top SSC MTS coaching in India at a low tuition fee. Enroll today!