Home
»
Apply for Franchise
Apply for Franchise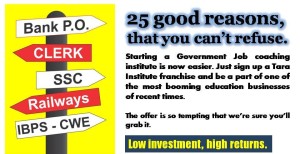 Preparation for competitive exams for government jobs is one of the most booming businesses of recent times.
With the implementation of the sixth pay commission & the increasing recruitments by government organizations and the public sector banks, the industry has witnessed a rapid growth during the last few years.  Over 1.4 crore* candidates have registered for various IBPS exams in the year 2011-12 alone & the number is growing fast.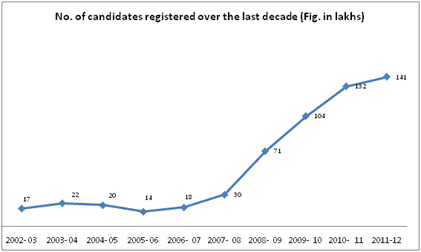 *Source: IBPS website.
The need for quality coaching for the government exams is largely catered by the unorganized players, with very few in the organized sector.
Tara Institute has evolved its systems & processes to bring a successful business model in the industry & has emerged as one of the fastest growing brands in the category. With over 50 centres operating across 12 states of the country, we are one of the most liked institutes in India for preparatory programs for Government jobs.
we are providing Best franchise business opportunities in India with low investment, under 10 Lack, for competitive and entrance exam coaching center,
Only Tara Institute is providing low investment higher profit business of tuition and academy educational great business franchise to any one. who has teaching
education business, we have successful entrance and competitive exams franchises in across the country. we have top educational and best tutorial franchises,
experience and managing qualities of Institute.sorry to say kindly don't ask for franchise for Delhi, Kolkata, Mumbai and other metro city in India.
Here we present you a business proposal that you can't refuse. We're sure that with the best quality resources deployed in the business, you'll make it a highly profitable business in your city.
25 reasons that you can't refuse. Each is a strong reason to ally with us.
| | | |
| --- | --- | --- |
| S. No. | Reasons | Why Tara Institute Centre? |
| 1 | Curricula | Tara Institute has gained considerable experience in conducting these programs over years together & has mastered the curricula for all the related exams. |
| 2 | Courseware | Tara Institute has created an exceptional courseware (both in English & Hindi) through its own resource of academicians & trainers. This material is original and is only issued to the registered students of the institute. This courseware is not sold in the book stalls & the marketplace and is a unique feature of the institute. |
| 3 | Solved & unsolved examples and exercises | The courseware published by Tara Institute has huge amount of examples & exercises. The exercises are classified into three difficult levels make it easy for the students to grasp them. |
| 4 | Trained, Skilled & experienced faculty members | Tara Institute has the best available faculty members in the industry. They are skilled to deliver these specialized coaching. Each trainer is recruited through a National level faculty test & is trained by the Master Trainers at the Head Office. Most of the trainers at Tara Institute has huge amount of experience in conducting such programs.Tara Institute conducts frequent faculty trainings at its Head Office where faculty members from all across the country participate to upgrade their skills & experience. |
| 5 | Short techniques & fast solving methods | Tara Institute has mastered this skill & offers regular training to its faculty through frequent training programs conducted at its Head Office. |
| 6 | Regular tests & assessments | Tara Institute has created many series of weekly tests to be conducted across all its centres, thereby doing a regular assessment & evaluation of its students. Corrective actions are suggested to the students & the faculty members, based upon the results. |
| 7 | Mock test series | Tara Institute conducts regular mock tests at all India level to give the best practice to its students. These test series are created with great quality & precision & give a real test experience. |
| 8 | Keys & solutions to the mock tests | Tara Institute offers answer keys & solutions to all these mock tests thereby helping its students get the confidence to perform better in the next test. A series of such tests help them perform better & hence the selection ratio is better. |
| 9 | Online tests | Tara Institute offers one of the best online test mechanism through its third party vendor. Each student is offered a unique ID & a password to take innumerable numbers of tests. Every student is given an access to take many topic wise, subject wise & mock tests. This facility is offered to every student for a period of 12 months from the date of his enrolment at the institute.This online test facility not only helps in test practice but also offers 7 different reports & analyses enabling the student understand his / her strengths & weaknesses. |
| 10 | Test notifications, guidelines & alerts | Tara Institute offers this service to all its centres by updating all notifications & alerts through regular mails. |
| 11 | Marketing & promotion | Tara Institute has evolved several marketing strategies that bring in a lot of strengths for its centres. Each strategy is minutely defined & is elaborated in details.We conduct lots of marketing training at our Head Office for the centre to participate & benefit. |
| 12 | Marketing designs & co-laterals | Tara Institute offers many such designs & co-laterals professionally designed by the experts. These designs are constantly reviewed & updated based upon the continuous feedback from the market. |
| 13 | Procedural sales | Tara Institute has created a standard sales process that would help centre maximize its results.Sales trainings are conducted at the Head Office at regular intervals. The centres are invited to participate in the trainings so as the get the maximum benefit from the experience gathered over years. |
| 14 | Website & online marketing | The website of Tara Institute is one of the most visited website by the students. Records reveal that IBPS is the most searched keyword in google in India in the year 2012.Every centre would have its name & address mentioned on the website. Our internet marketing & search optimization features brings in many enquiries for our centres. This is our competitive advantage over many other local players. |
| 15 | Centralized marketing & brand image | Tara Institute regularly releases advertisements in the leading national level magazines that the students read in order to prepare for the competitive examinations. A few of them are Pratiyogita Darpan, Succes Mirror, Samanya Gyan Darpan, Samsamayiki Mahasagar, Competition in Focus, etc. This helps create a brand identity & generates a natural pull for enquiries. |
| 16 | Standard Operating Procedure | Tara Institute has created a standard operating procedure whereby every single process is clearly laid down & is explained in details. This helps every centre to manage the operations well. |
| 17 | Management Standards | The Management system at Tara Institute is based on the international standards of the business & is certified by the ISO 9001 standards. |
| 18 | Research, Development & constant upgradation | Tara Institute invests a lot on research & development and that its processes, curricula & contents are constantly upgraded to the recent times. |
| 19 | National Level presence | Students would prefer a National level brand than a local brand. Tara Institute is one of the very few having over 50 centres across India. |
| 20 | Sharing of experience | You get this sharing of experience through the principals by way of circulars & mailers. They also form the part of training. Also the success stories at its centre are communicated to others, so that the same can be replicated by all other centres. Every centre gets benefited through these communications. |
| 21 | Incredible knowledge & experience | This transfer of knowledge & experience shall reduce the chances of failure, making it profitable with the least of chances & experiments. |
| 22 | Head Office in Delhi | This has been used as a big marketing campaign by many of our centres to their advantage. |
| 23 | Own centres benefit | We at Tara Institute own 7 centres in Delhi & Mumbai. Any new programs or development planned is first executed & implemented in these company owned centres & then the best results are implemented across the franchise network. You get fool proof model with high success probability. There is no experimentation done on the franchisees. |
| 24 | New markets | We have identified that the colleges (Engineering, Management & other Degree programs) are a great potential for such programs because of two reasons. First, many students opt for government jobs these days. Second, the companies visiting these institutes for campus interviews take aptitude tests which is almost similar to what we excel.We have also created a special program for institutional tie-ups & that the same has been successfully implemented at few locations. |
| 25 | New Programs | Very soon you'll find standard programs for MCA Entrance, MBA Entrance (CAT, MAT, etc.), CLAT, CSAT, etc. That's another advantage of getting associated with us. |
For further details, kindly mail us at info@tarainstitute.in
For More Franchise Detail Please Contact:
Mr Satyndra Kumar (MD Tara Institute)
Mobile Number: +91-9999182754
Email: tarainstitute@ymail.com
Offers Training For :- Competitive Exams Preparation, IBPS CWE-PO, CLERK, SPL, RRB, SBI PO & CLERK, SSC CGL , LDC , UDC, MTS, DEO, Railway EXams preparation, NDA, CDS , AFCAT Exam Coaching Classes, Entrance Exam preparation, BBA , CLAT , B.ED ,CTET
Kindly fill in the Franchise Application Form below. We shall contact you soon:
Note : Kindly visit this page on laptop / desktop to get the Franchise Form.