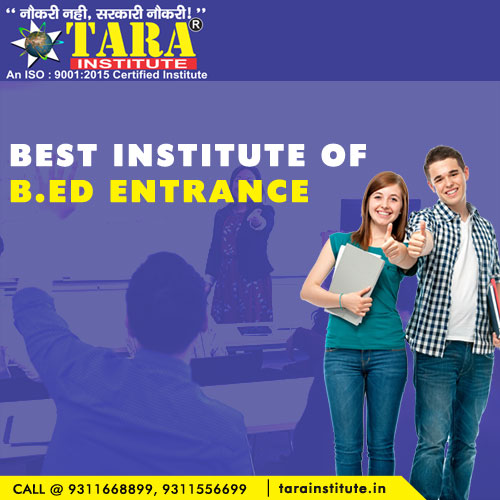 Enroll at Tara Institute for B.Ed. coaching and make a great career in the teaching profession
The top B.Ed coaching in India at our Tara Institute is the perfect destination to help you make career in the teaching profession. The two year undergraduate program of B.Ed. or Bachelor of Education design a successful career for students interested in teaching and related fields.
The program is based on skill training and imparts a clear understanding to students regarding all the aspects of the classroom teaching. For people who wish to seek a career in the teaching profession of the country must hold an undergraduate degree course in any discipline and field.
There are a number of colleges that hire appropriate and good professionals after the successful completion of their course. Since the prospects of a successful salary and reputed job are very high, a number of youngsters want to make the most of this opportunity. If you want to walk over a successful path of clearing the B.Ed. exam, then only a reputed institute which offers you the same can make you work hard for this dream.
One of the top notch academies of the country is the amazing coaching academy Tara Institute. Our coaching center is known for delivering some great and learned teachers to the country. You can see our record for the previous years and understand that the top ranks were always occupied by the students of our Tara Institute. Both our regular courses and crash courses covers the syllabus of the exam which comprises of math ability, mental ability questions, general knowledge and current affairs, language ability test, teaching proficiency test and subject test.
We have a pool of diverse teaching professionals who make it possible for the students to attend separate sessions for different topics of the exam. Also the teachers understand that the thinking and reciprocating level of each student is different so they teach a topic in the class until every student gets it.
What makes Tara Institute one of the best of its kind?
There are various reasons that make Tara Institute called as the student centric center and an academy of excellence. These are:
• The general teacher to student ratio is maintained to be very minimal so as to make it easy for students to grasp and ask questions.
• We provide with the quality B. Ed coaching in India at an affordable fee so as to make our coaching accessible for all students.
• We hold an amazing record for getting them maximum number of selections in B.Ed. exam making us a triumphant tuition center in India.
• Separate doubt sessions are also organized so as to not leave any loose ends in our student's preparation.
• We have options for regular courses and crash courses along with offline test series and online test series so as to provide the students with a total package.
We at Tara Institute make you believe in your efforts so as to make you successful in life. A number of students enroll to our various branches for the top B. Ed coaching in India every year.