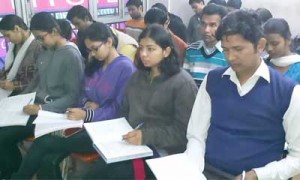 Tara Institute is a Premier Training Centre, is an initiative of young Bankers, Railway, MBAs and eminent educationists who have a rich experience of competitive entrance exam preparation. We offer coaching for Bank PO, IBPS PO, SBI PO, Bank Clerk, SSC CGL, NDA, BBA, CTET in Delhi, Mumbai & Other Cities of India. Our Aim is to make entrance examinations a cakewalk for the students who are seen running from pillar to post in search of good guidance and to create a global education. We desire to make competitive entrance exam preparation guidance affordable for those students who have loads of talent but remain deprived of quality study material due to high cost. We offer world-class comprehensive preparation services for various competitive entrance examinations.We have scaled amazing heights and have set up benchmarks for other competition coaching institute. We cover all the aspects of ideal competitive education in Delhi and India as well. In Tara Institute preparation program with its course contents has been touted as one of the best in the industry by the subject experts. They have always been a trendsetter in all competitive education. That is why, we are proud to be the best coaching institute in Delhi in India.
We provide a truly world class environment to study and equip them to become global identity. The Faculty of our institute comprises of one of the best in the industry which gives the institute a definite edge over other coaching centre and institutes. Over a period of time, we have topped the competitive survey chart and have gained a lion's share in most of its findings.
We believe in excellence of knowledge with the right strategy to retain it. A study plan is as necessary as the right study material. Our experts guide the students with proper study plan and tips for learning. Our subject experts and experienced teachers will make easy the path to your goals. Increase the student's knowledge and make them full of confidence is the first priority of the study plan. Get advantages of our teaching strategies and other assistance of connecting with Tara Institute. Make your future bright under the best guidance of experts.
Our passion for supreme quality education is evident in every endeavor undertaken at the institute. We are proud of our faculty consisting of dedicated thought leaders, an infrastructure that can compete with the best and a curriculum that is upgraded regularly to keep in tune with industry needs.
Mission:
To develop tomorrow's education leaders, entrepreneurs and managers through:
An education based on ethical values resulting in knowledge and skills valued by industry
Application oriented research that flows into the teaching-learning process
Inspirational and creative teaching
An outstanding and exceptional learning experience
lesson to make potential high
Values :
A society of continuous improvement and total quality that encourages creativity and innovation
An innovative strategy that values people and teamwork and is committed to employee development and training
A deep commitment to sustainable development and a green environment
An appreciation of edu-work diversity of India
International gravity that promote cross-way learning
Key Themes:
Improving the student experience
Maximizing the learning value-add to students from entry to exit
Proactive employer engagement in the region