Defence Coaching Exam In Delhi
Join Military Academy by the Accomplished Defence Coaching at Tara Institute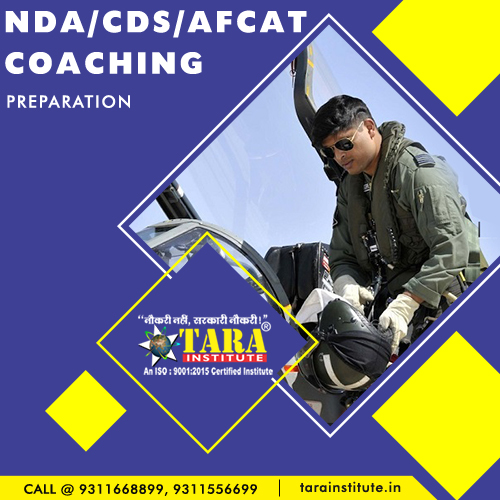 Building a successful career in the defence academies of the country is not that easy a task and requires you to undertake necessary coaching classes. The right defence coaching classes at Tara Institute makes it easy for student to bring out the best in them while making them successful in their endeavor.
Many students indulge in getting in various institutes for the preparation for the defence exams but aspirants forget that not all coaching classes can help them with their dream. Just going to any defense coaching academy is not the right intend.
If you want to find a top defence coaching institute in India that can help you to practice in ways that makes it easy for you to clear the defence exam then Tara Institute is the abode you should trust. We have an impressive track record in securing the future of many aspirants and developing leaders for the country. Our study centers are trusted by a number of aspirants who believe that only quality education can help them clear the exam.
The teachers at Tara Institute help defence coaching students with unique teaching method so as to make them clear their concepts easily. Our method of teaching comprises of carefully written study materials and online and offline test series so as to make students competent enough in their preparation. There is special doubt clearing sessions organized for students in order to clear all the problems that they might encounter in the real exam scenario.
The fact that makes Tara Institute one of the top defence coaching centers in the country is that we offer aspirants nurturing lessons and teachings at a very nominal fee. Our course fee makes it easy for aspirants to study at the top tuition center in India and make a successful leap in their career.
Points that make Tara Institute the best center for defence coaching
• We offer a wide range of coaching for different defense exams like NDA, IMS, Air force group X and Y, Navy SSR, MR and AA and all other government sector exams. We hold expertise and experience in all type of defense exams.
• We blend our classes with unique teaching methods and theoretical study materials so as to complete the whole set of learning for the students.
• We offer students with options like offline test series and online test series so as to make them realize the real exam atmosphere.
• Our teachers are highly talented and experienced in these domains.
• We have a good infrastructure that lets to an overall personal development of every student.
• We also have doubt clearing sessions so as to aid in the preparation of the students.
If you have success in your defense exam in mind, then Tara Institute is what will let to achieve that dream. Visit us anytime for any question and information.
Join Tara Institute today for the right kind of the preparation and reap the result of the best defence coaching in the country.