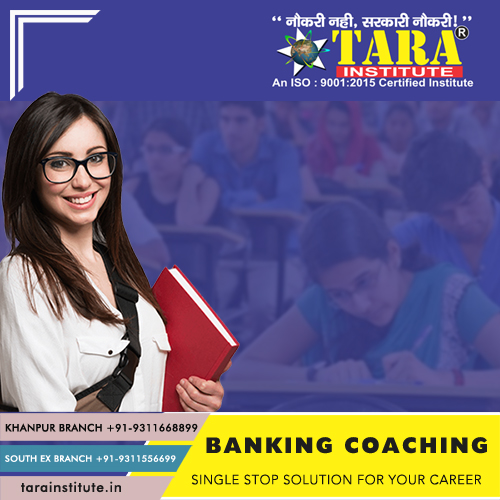 Bank probationary officer (PO) is known as the one of the prestigious jobs, which will provide you an easy path to high-ranking officers of the bank after following the process. In addition, competition is very high among aspirants of the Probationary officer. Moreover, there is a different stage of work that the selected candidate will learn. PO Jobs offers the high bright future in banking During the Probation period of 2 years, the candidate needs to learn many procedures and take responsibility of multitasking in the initial posting.
Tara institute provide Best institute for SBI PO Coaching in Delhi and SBI PO Exam Coaching Classes in Delhi by Tara Institute for a highly competitive exam like SBI PO. Their faculty members are sharp about teaching and have uniqueness, expertise in competitive exams. So, join best coaching institute for sbi po in Delhi.
We have the largest number of Succeed candidates in the SBI exams coaching and helping our country to develop fast.  We have the right pattern and best study material to produce the result. Evaluate yourself with our mock test and test series for the enhanced result.
We provide comprehensive classroom coaching for sbi bank PO exams and other government recruitment exams for sbi po. Our classroom training aims at improve required skill sets that aspirants need to gain employment at main banks and in the Government sectors.
Main advantage of joining these centre is that one can give a specific time for sbi po exam preparation apart from his/her phthisic schedule.
Age Relaxation: SC/ST-Scheduled Caste/Scheduled Tribe – 5 years, OBC-Other Backward Classes – 3 years, PWD-Persons With Disabilities – 10 years, Ex-Servicemen/ECOs/SSCOs – 5 years, Persons ordinarily domiciled in J & K state – 5 years, Persons affected by 1984 riots – 5 years.
Nationality: Candidate must be an Indian citizen.
Selection Procedure:
Phase-I: Preliminary Examination: Preliminary Examination consisting of Objective Tests for 100 marks will be
Sr. No.
Name of Tests (Objective)
No. of Qs
Maximum Marks
Duration
1
English Language
30
30
Composite time of 1 hours
2
Quantitative Aptitude
35
35
3
Reasoning Ability
35
35
Total
100
100
conducted online. This test would be of 1 hour duration consisting of 3 Sections as follows:
Candidates have to qualify in each of the three tests by securing passing marks to be decided by the Bank. Adequate number of candidates in each category as decided by the Bank (approximately 20 times the numbers of vacancies subject to availability) will be short listed for the Main Examination.
Phase-II: Main Examination:
| | | | | |
| --- | --- | --- | --- | --- |
| Sr. No. | Name of Tests (Objective) | No. of Qs | Maximum Marks | Duration |
| 1 | Reasoning & Computer Aptitude | 45 | 60 | 60 minutes |
| 2 | Data Analysis & Interpretation | 35 | 60 | 45 minutes |
| 3 | General/Economy/Banking Awareness | 40 | 40 | 35 minutes |
| 4 | English Language | 35 | 40 | 40 minutes |
| | Total | 155 | 200 | 3 hours |
Main Examination will consist of Objective Tests for 200 marks and Descriptive Test for 50 marks. Both the Objective and Descriptive Tests will be online. Candidates will have to answer Descriptive test by typing on the computer. Immediately after completion of Objective Test, Descriptive Test will be administered.

(i) Objective Test: The objective test of 3 hours duration consist of 4 Sections for total 200 marks. The objective test will have separate timing for every section. The candidates are required to qualify in each of the Tests by securing passing marks, to be decided by the Bank.

(ii) Descriptive Test: The Descriptive Test of 30 minutes duration with 50 marks will be a Test of English Language (Letter Writing & Essay). The candidates are required to qualify in the Descriptive Test by securing passing marks, to be decided by the Bank.
Descriptive Test paper of only those candidates will be evaluated who have scored qualifying marks in the Objective Tests and are placed adequately high as per total marks in objective test.

Penalty for Wrong Answers (Applicable to both – Preliminary and Main examination)

There will be penalty for wrong answers marked in the Objective Tests. For each question for which a wrong answer has been given by the candidate one fourth of the marks assigned to that question will be deducted as penalty to arrive at corrected score. If a question is left blank, i.e. no answer is marked by the candidate, there will be no penalty for that question.

Phase – III: Group Exercises (20 marks) & Interview (30 marks)

The aggregate marks of candidates qualifying in both the Objective Tests and Descriptive Test will be arranged in descending order in each category. Adequate number of candidates in each category, as decided by the Bank will be called for Group Exercises and Interview. The qualifying marks in Group Exercises &Interview will be as decided by the Bank.

Candidates qualifying for Group Exercises & Interview under 'OBC' category would be required to submit OBC certificate containing the 'Non Creamy layer' clause. Candidates not submitting the OBC certificate containing the 'Non Creamy layer' clause and requesting to be interviewed under General category will not be entertained.

Final Selection

The marks obtained in the Preliminary Examination (Phase-I) will not be added for the selection and only the marks obtained in Main Examination (Phase-II), both in Objective Test and Descriptive Test, will be added to the marks obtained in GE & Interview (Phase-III) for preparation of the final merit list.
The candidates will have to qualify both in Phase-II and Phase-III separately. Marks secured by the candidates in the Written Test (out of 250 marks) are converted to out of 75 and marks secured in Group Exercises & Interview (out of 50 marks) are converted to out of 25. The final merit list is arrived at after aggregating converted marks of Written Test and Group Exercises &Interview out of 100 for each category. The selection will be made from the top merit ranked candidates in each category.

Results of the candidates who have qualified for Group Exercises & Interview and the list of candidates finally selected will be made available on the Bank's website. Final select list will be published in Employment News/ Rozgar Samachar and also in Bank's website.

If you are looking for really good coaching from the Top 5 Bank PO exams Coaching institute in Delhi, then your search ends here at Tara Institute, the premier coaching classes for banking exam.

Tara institute is a Top leading Bank PO coaching In Delhi by giving well-weaved Study Module for various bank exams such as IBPS PO, SBI PO etc. Study material is competitive enough to match the latest exam pattern and syllabus of the respective examining bodies.

Being among the best coaching tutorial for Bank PO/Clerk coaching in Delhi, Join Tara institutes the best academy to boost your prospects in banking sector.

Experienced faculty, well researched study materials, mock tests, unique teaching method, Regular course, online and offline test series and lots of other similar facilities at Tara institute Tuition centres ensures only quality IBPS Bank PO/Clerk Coaching is rendered to students aspiring to take IBPS Bank Clerk exam. Our different study centre in Delhi, Kolkata and Mumbai.

If you have the dream to make your career as a SBI Probationary officer! Or want to clear other SBI Banking exams then Contact us today and know more about, how could we help you to peruse your dream and ease your path of this journey. We at Tara Institute® are pleased to introduce ourselves to you. Tara Institute® is a leading Brand specially for SBI PO Competitive examinations. We provide the best Section Wise Test Series for SBI PO Exams curated by ours Experts. The SBI PO Mock test series are based on the latest pattern and syllabus which give students hands-on experience for appearing in exams of SBI PO. We have more than 450 test series including Topic wise, weekly and previous years of SBI PO Examination. These tests increase accuracy and speed of the students to crack SBI PO Examination.

We at Tara Institute® would be happy to Provide the best and highly experienced faculties in SBI PO Exams Preparation field. Faculties gives Proper guidance to do a precise syllabus practice. Tara Institute® is  offering an exclusive batches to the students for SBI PO Exams Preparation at a minimum Fee. Tara Institute® provide 200 MCQs tests of Monthly Current Affairs as divided in 4 tests including 50 questions each test on Exams Pattern of SBI PO and Monthly Current Affairs E-Magazine in PDF forms which are totally free on our website and Android App which is also available free on Google play store. Current Affairs are very important for SBI PO Exams. Since 2007 Tara Institute® has been working in the same Education industry of India, it would be great if you could call us for more details for SBI PO Exams.