Banking Coaching Classes in Kolkata
Shine with the Successful Banking Coaching Classes in Kolkata at Tara Institute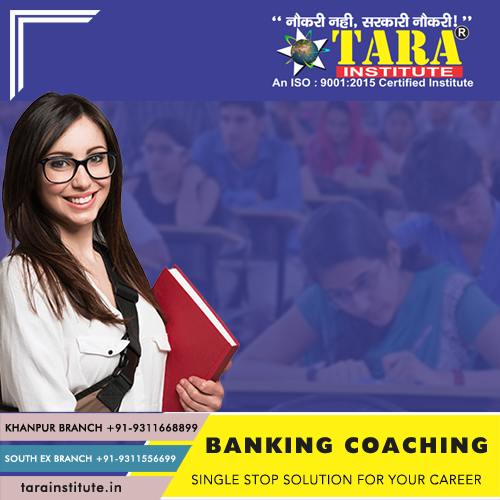 One of the fastest growing industries of our country, banks holds the shinning economy of the country in its hands. Banking sector is referred as the sunrise sector of the country. The government is also trying to provide banking facilities in the remotest of the cities and towns as well so a number of bank branches are being opened in various parts of the country. Said to be the securest of jobs in the country, a number of youngsters are now preparing for the banking exams and make their career into this field.

Finding the right coaching institute for your bank exams preparation is a very tedious task owing to the fact that there are some many coaching for the same. One center that can help to build your career is the Tara Institute. Our reputed institute has delivered the best banking professionals to the country. Our top banking coaching in Kolkata has given successful top 5 ranks in the previous year's banking exams as well.

About Banking Exam
A number of the banking institutions and banks conduct multiple exams every year to recruit suitable candidates for the positions including Specialist Officers, Bank PO, Bank Clerks, and more.

A few of the popular examinations are IBPS PO, SBI Clerk, IBPS Regional Rural Bank Exam, SBI Probationary Officer, RBI Grade B Exam, RBI Assistants Exam, IBPS, and Specialist Officers (IBPS SO).

Career Opportunities for Banking Aspirants
There are various job options in the banking sector based on qualification and fulfillment of defined eligibility criteria. A few of them are Investment banker, Bank cashier, Accountant, data entry operators, Bank manager, Stockbroker, telephone operators, Ledger clerk, Controller, PO, and more. Job stability, remuneration, and other benefits attract candidates in the banking sector.

Eligibility for Varied Banking Exams
A high school diploma can also get you job as a bank teller. Higher qualification can help you apply for higher positions and promotions in the banking sector.
For Clerk positions, a candidate need to be an Indian citizen, should have passed 10+2 or graduate with 60% in 12th class or more, age group of 18-28 year
For PO role, a candidate need to be an Indian citizen, age should be minimum 21 years and maximum 30 years.

Advantage of Banking Coaching at Tara Institute

Our institute for banking exam in Asansol is known for its regular courses and its experienced faculties too. We are known as the best tuition center in India because we provide successful coaching at a very nominal fee.

Our classes for banking in Bardhaman is known for its crash courses and the top ranks achieved by the students of these courses. We at Tara Institute believe that not only study materials but unique teaching methods are important for an overall preparation for the exam.

Our institute of education for a successful story is an academy where students are nurtured to help them with a worthy future. Our coaching of banking in Salt Lake is known for its offline test series and online test series helping students in their last minute preparation.

Our institute of banking in Durgapur is one of the best centers in the city and is known for its success ratio.

You can have a look at the previous year's toppers and you will see that the top 10 ranks are secured by the students from our classes of banking in Bardhaman, institute for banking in Durgapur, and coaching for banking in Salt Lake. We constantly work for being better than what we are today and that is what makes us the best.

Our coaching of banking exams is considered to be highly successful owing to the immense potential of our experienced teachers and their vision of considering the weak points of every student. Our institute for banking exam in Asansol has given wings to the students saving them from travelling to the capital for our classes for banking exam. This saves a lot of travelling time and even cuts down the cost for your banking coaching.

If you want the assurance of your success in your next banking exams attempt then the only trusted center is the Tara Institute's banking coaching classes in Kolkata.

Visit our website for more details and join our batch for the classes of banking exams today.