Banking Coaching Classes in Mumbai
Prefer Tara Institute for the top banking coaching classes in Mumbai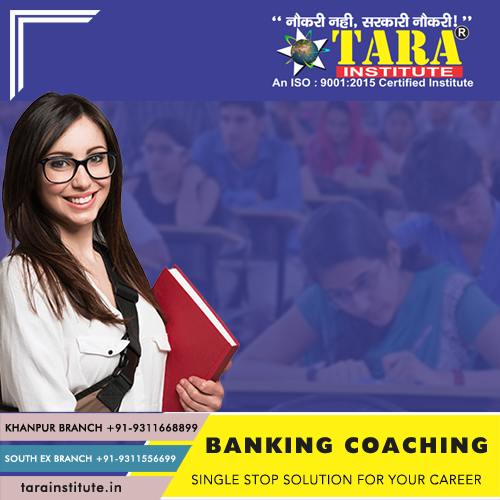 Our country is in its developing phase which is the reason why new job opportunity is created every day. Despite these new job opportunities most of the youngsters are still lured towards the banking jobs. This is due to the reason that in banking jobs the salaries are high and the perks offered are great.
Previously only the graduates from the commerce stream uses to take part in the selection process but now the candidates from arts, science, and even medical are keen to take part in it. With the help of the top banking coaching classes in Mumbai at Tara Institute, students are sitting in the varied banking exam and are clearing the exam and also are placed in different banking jobs. The banking exams are conducted by the IBPS every year for filling the vacant posts. The selection criterion is a multi-level exam followed by other evaluations.
At our banking coaching classes in Nasik, there are many students coming for appearing in the bank exam. With the increased number of candidates, the competition is also getting tougher. In the exam, not only they test your knowledge in finance and banking but also they cover the aptitude portion.
The banking exam covers subjects like quantitative, reasoning, language, and also general awareness portion which aims to test the candidate's inner knowledge. So the importance of coaching centers like Tara Institute at banking coaching classes in Pune has increased.
Why one should join coaching institute for banking coaching in Nagpur?
This is the question which is in the mind of many candidates appearing for banking exam. But do not make mistake that you are part of most challenging banking exam and it needs preparation under banking coaching classes in Nagpur to support in realizing your dream career.
And considering the difficulty level and changing pattern of the exam, it is important to join Tara Institute at banking coaching classes in Aurangabad city. This will allow you to strengthen your hard work with a good strategy which will help you to achieve your goal easily.
The main advantage of the banking coaching classes in Aurangabad is that the students will remain in proper covering the course of the curriculum and also they can take many advantages from the tutors and the study material of the coaching institute.
You must understand that when you join the banking coaching classes in Nashik you are brushing your skills which cannot be exploited in self-study.
You will be able to take the help of the tutors who are at the banking coaching classes in Pune at Tara Institute to help you better understanding the topic with extra learning matters.
Also this will improve your speed, accuracy, and attempting the questions with great self-confidence and motivation. The banking coaching classes in Nagpur helps you mastering the subjects.
We at Tara Institute also make you through with mock test and previous year papers at banking coaching classes in Mumbai. Enroll today!