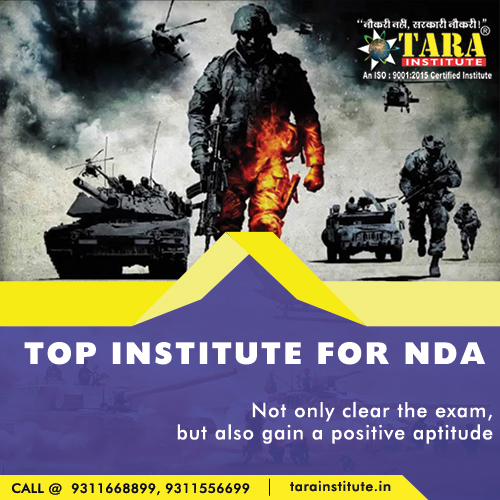 We are best Coaching Institute in Thane and we educate student for competitive exams like NDA & NA Exam conducted by the UPSC. We also prepares students for the entrance exam and tara institute also provide special coaching classes for National Defence Academy aspirants. Tara Institute a leading

NDA coaching classes in Thane

provides top training, wherein thoroughly guiding students to crack the NDA examination and its hard interview process. We more believes in getting its students a reputed job.

Our NDA coaching in Thane, all our training for NDA test is handled by our team of well skilled teachers, who are knowledgeable with the stream, subject matter and interview procedure.

Scheme of NDA Entrance Examination

1. The subjects of the written examination, the time allowed and the maximum marks allotted to each subject will be as follows:

a) Mathematics (01) – 2-½ Hours (300 Marks)

b) General Ability Test (02) – 2-½ Hours (600 Marks)

Total 900 Marks

2. The papers in all the subjects will consist of objective type questions only. The question papers (Test Booklets) of mathematics and part "b" of genaral ability tests will be set bilingually in hindi as well as English

3. In the question papers, wherever necessary, questions involving the metric system of Weights and Measures only will be set.

4. Candidates must write the papers in their own hand. In no circumstances will they be allowed the help of a scribe to write answers for them.

5. The Commission have discretion to fix qualifying marks in any or all the subjects at the exam

6. The candidates are not permitted to use calculator or Mathematical or logarithmic table for answering objective type papers (Test Booklets). They should not therefore, bring the same inside the Examination Hall

The paper will be of both language Hindi & English. Answering Method: Each question will have four optional answer candidates have to choose the right one only

There will be negative marking for incorrect response given by candidates in the objective type questions. Candidates use only black ball pen to mark answers.

Join Tara Institute for Best NDA coaching in Thane, Mumbai. Top Coaching Institute for NDA exam.