Gain an admission in your dream MCA College while preparing at Tara Institute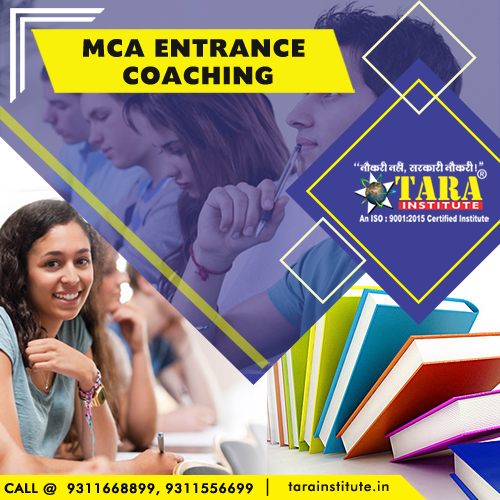 Enroll at Tara Institute for the unmatched MCA coaching in the nation. MCA or Master in Computer Applications is a very popular postgraduate course in computers. The course is generally taken by students who have completed their graduation in BCA or Bachelor's in Computer Applications and then wishes to study more in the same stream.
There are number of colleges that conduct their university level exam in order to invite aspirants in pursuing the course. The general layout of all the exams remains the same with some minor differences.A number of students join a coaching academy which can assist them throughout their preparation and help them achieve top ranks in the MCA entrance exam. Finding the right coaching center that can make you competent enough for the MCA entrance exam is a tedious task owing to the fact that there a number of such centers sprawling in the city. But amongst them, the best center for guidance is Tara Institute.A number of students join our coaching academy and express their desire to prepare for universities exams. We teach and train a number of students for various exams with their expert and unique teaching methods and their descriptive study materials including the top MCA coaching.
The study atmosphere of our teaching center is very healthy, aiding in an overall development of the student. One of the best facts about the faculties for our MCA coaching is that, we do not target only one kind of university exam but make our students prepare for a variety of exams so as to broaden their career aspects. Tara Institute in India has given a number of such computer professionals through our expertise and years of learning experience setting records in turn.
Why should you enroll to Tara Institute for your MCA coaching?
When it comes to learning and understanding of concepts together, then only the faculties at the Tara Institute hold the expertise to make it reality for our students.
• Our faculties believe in making our students appear for a number of MCA entrance exams for various good universities and train them in such ways only.
• We organize separate class for students who want to target only a particular university so as to make them aware of that exam format.
• We offer our MCA candidates with regular courses and crash courses so as to suit the timings of various students some of which belong to working class too.
• We provide the students with online test series and offline test series so as to make it easy for them to revise topics that need their maximum attention.
• The cost of our MCA coaching is very minimal and can be easily afforded.
Tara Institute is a reputed name in the MCA coaching in India and the top ranks for any university exam are secured by the students of our institute only.
If you have any questions then visit us and enroll yourself to our nearest branch today for MCA coaching.