Best Coaching Institute For Air Force X Group Exam Working in Indian Air Force is a prestigious job; working in defence is a status symbol. Nearly every youth wants to work in defence in order to serve their country in slightest way possible. Every year there are several examinations which give you a chance to serve in the Air Force, Navy and Army.
Tara Institute's Air Force Group X coaching has earned fame by consistently ranking among the top 5 coaching institute for Indian Air Force Group X exam. Tara Institute's unique exam preparation techniques make it the best institute for Air Force Group X examination.
Each tuition center is fully equipped with the latest study facilities for maximum benefit. Such features have helped rank Tara among the top 10 coaching of Air Force Group X exam preparation.
This academy is an Indian Air Force Group X coaching institute focusing on building a strong foundation and providing focused attention to each student.
Here we will discuss about Air Force Group X examination and how to apply for it, what is the correct age, and we will also help you in preparation of this exam.
Air Force Group X exam
The Indian Air force conducts Group X recruitment test for recruitment of airmen in Technical and Non-Technical trade. The X Group of air force includes pilot, officers and navigators.
Tara Institute is proud to be counted among the top 5 institute in India for Air Force Group X exam preparation. For best results in the Air Force Group X examination, you must rely only on the best coaching classes of Air Force Group X exam. Exam preparation must be planned and executed flawlessly by the best Air Force Group X exam teachers. For this reason you should place your trust in Tara Institute, the best institute for Air Force Group X exam and top choice tuition centre among the Top 10 coaching classes for Air Force Group X exam.
Qualification
The candidate must have passed 10+2 or any equivalent examination with Mathematics, English, and Physics with 50% marks
or
The candidate must have passed three years Diploma in Engineering in any of the stream mentioned in CASB web portal with minimum 50% marks in aggregate and 50% in English
Age
The eligible candidate should is aged between 17-21 years on the date of enrollment.
How many times is the exam conducted?
This exam is conducted once in every year and the notification is released on the official website as well as in the newspapers.
Selection Criteria
The selection will be made on the basis of online exam, Physical Fitness Test (PFT) and Medical Examination. The online exam is conducted in Phase-I and Phase-II. Those candidates who pass the first exam will be eligible for the second exam.
Exam pattern
The question paper will be objective type and will be set in both English and Hindi.
The question paper will comprise of three sections i.e. English, Physics, and Mathematics, and the candidates will have to clear each section separately
The standard of the question paper will be that of 10+2
The duration of the examination will be 60 minutes
Due To The Impact Of COVID – 19, We Decided that We will not Provide classroom Studies or offline classes till Lockdown Period, Because Our Prime Minister Told That "JAAN BHI OR JAHAN BHI" And We Understand the Value of Education so we have Decided that we will Provide you LIVE Classes For Air Force X Group Exams Preparation, So join our Online Video Lectures for Air Force X Group Exams Preparation, Our All Faculties are Ready for Virtual Classes Or Recorded Video Lectures For Air Force X Group Exam.
Regular Course For Air Force X Group 1 & 2/2020 going to start Online Video Lectures from:-
1st June 2020
15th June 2020
1st July 2020
15th July 2020
1st August 2020
19th August 2020
1st September 2020
For Details Call Us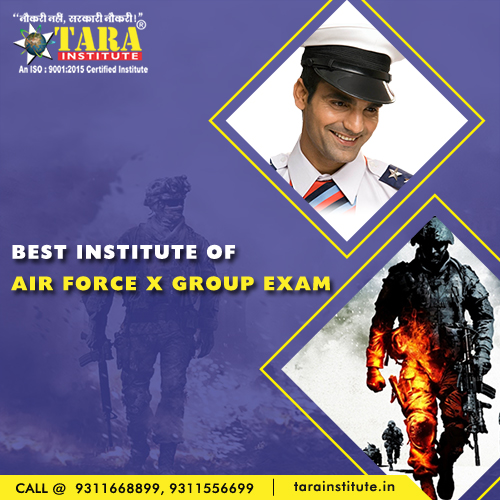 Best coaching for Air Force Group X exam
If you are preparing for X group air force examinations you should join Tara institute, here you will get complete guidance throughout your examinations and selection process. The faculty of TARA institute is a group of learned and experienced teachers. They help and guide you with their real time experience in the examinations. The unique teaching method of the teachers prepares you thoroughly for the examinations.Some of our offerings that make us the top coaching institute for Group X exam are:
The study materials are available both in Hindi as well as English for best coaching
100% free coaching facility for fatherless and handicap students
The candidates may opt either for a crash course or a regular course
We also provide interview tips prepared by the experts and even prepare for group discussion
We have a dedicated Tara Career Institute app to help the students prepare on the go
You can also check exam notifications and other exam updates and exam details from our app
Students can gauge their level of preparation by giving tests using our free online test series and offline test series which is available both on our website as well our app
Personalized tips for Air Force Group X exam
We even provide e-learning facility
Tara institute offers crash course for air force X group exam too. The teaching session for examinations consists of focused classroom sessions, testing and doubt resolving sessions, motivation and discussion sessions. Our coaching institute helps the students to be on the top in this competitive era.

The clock is ticking! Join our high-achieving academy to boost your career and get the best Air Force Group X exam coaching classes. Our study center in Delhi and Mumbai has shown exceptional results making it the top choice for the best coaching of Air Force Group X exam preparation. Our tuition study centres are fully equipped with advanced educational facilities to prepare you in every aspect of the Air Force Group X exam.

Get in touch with your nearest Tara Institute tuition centre and get yourself enrolled today!