Best Coaching Institute In India For Navy Matric Recruit (MR) ExamThe Indian Navy recruits MR on two bases Matric Recruit (stewards and cooks) and Non Matric Recruit (toppas). These sailors work in navy and are as responsible as the sailors on any other position. The sailors are given further training in their respective trades in other naval establishment and assigned duties on Indian Naval Ships and base units.Tara Institute's Navy MR coaching has earned fame and respect by consistently ranking among the top 5 coaching institute for Indian Navy MR exam. Tara Institute's unique teaching method and exam preparation techniques make it the best institute for Navy MR examination. Tara Institute is an Indian Navy MR coaching institute focusing on building your confidence and providing deep and in-focus training.Looking for information related to the Navy MR exam? Don't worry! We have collected all relevant information for all the aspirants.
Navy MR exam
The Indian navy MR exam is organized by the Navy to fill subordinate positions such as Cook, Steward, Sailors, and Topasses.
Tara Institute proudly ranks among the top 5 institute in India for Navy MR exam preparation. For best results in the Navy MR examination, you must rely only on the best coaching classes of Navy MR exam. For best coaching for Navy MR exam, the right exam preparation is the key to your success. For this reason you should place your trust in Tara Institute, the best institute for Navy MR and a highly popular tuition centre among the Top 10 coaching classes for Navy MR exam.
Qualifications
Candidates must have passed matriculation (10th class) examination or equivalent from a board recognized by either the state or central government.
Age
The eligible candidates should be aged between 17-21 years on the date of enrolment.
How many times is the exam conducted?
This exam is conducted once in every year. The exam notification is put on the official website as well as on the newspaper. You can also check for examinations update on Tara Institute App.
Selection criteria
The selection will be made on the basis of marks secured in the online exam, Physical Fitness Test (PFT) and Medical Examination.
Exam pattern
The question paper will be objective type and will be set in both English and Hindi.
The level of the exam will be that of matriculation level (10th class)
The Indian navy MR exam comprises of two section- one containing questions on Science, and Mathematics and other containing questions related to General Knowledge and General Awareness.
The duration of the exam is 45 minutes.
Best coaching classes for Navy MR Exam
Tara Institute helps students to prepare for defence exams; this institution is one of the top coaching centre for Navy MR exams preparation available in India. We help the students to pass this challenging exam with our reputation of being among the top 10 coaching of Navy MR exam.
Due To The Impact Of COVID – 19, We Decided that We will not Provide classroom Studies or offline classes till Lockdown Period, Because Our Prime Minister Told That "JAAN BHI OR JAHAN BHI" And We Understand the Value of Education so we have Decided that we will Provide you LIVE Classes For Navy MR Exams Preparation, So join our Online Video Lectures for Navy MR Exams Preparation, Our All Faculties are Ready for Virtual Classes Or Recorded Video Lectures For Navy MR Exam.
Regular Course For Navy MR 1 & 2/2020 going to start Online Video Lectures from:-
1st June 2020
15th June 2020
1st July 2020
15th July 2020
1st August 2020
19th August 2020
1st September 2020
For Details Call Us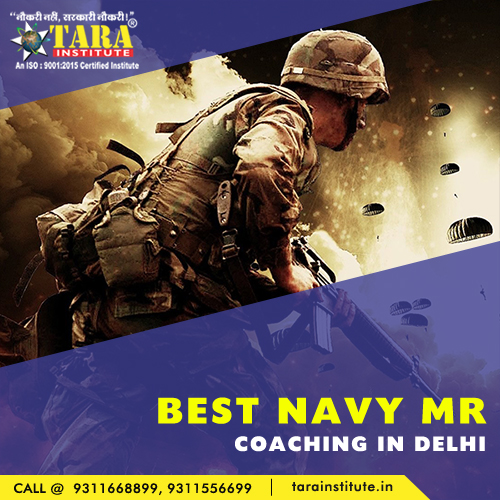 As a Navy MR exam coaching institute, Tara Institute helps provides exceptional coaching classes of Navy MR exam through teaching and doubt clearing sessions, discussion and motivating classes, online and offline test series. The specialized faculty analyses student performance and helps them to achieve more.At TARA Institute coaching is provided with precise focus, which clears the concept of the students and further help them in fulfilling their duties. You can choose between regular course or crash course for your preparations.
The faculties of TARA institute have a unique method of explaining different problems using real life examples. Classroom program of this institute prepares the student with balanced on focus on student's communication skill along with clearing and explaining theoretical doubts –
3 hour teaching session with experienced faculty.
Weekly test.
Online test for time management for one year.
Individual focus and support till selection.
The study materials are available both in Hindi and English
e-learning facility
We also provide interview tips prepared
Personality development and preparation for group discussions
Tara Career Institute app that displays exam notifications and test materials
Online test series and offline test series which is available both on our website as well our app
Useful tips for Navy MR exam prepared by experts
100% free coaching facility for fatherless and handicap students
Tara's Success Journey
Our institute has a higher success rate, and our institute has maintained a streak of successful students with good acceptance rate in competitive exams like Air Force X group, Y group, Navy SSR, Navy AA, Navy MR. Our institution provide updated notes to the students so that they don't miss any updated topic in the examinations. These following things make TARA institute's coaching superior from the rest –
Expert and Specialized Faculty.
Best faculty
Highly experienced and trained teachers.
Supportive and helpful teachers.
Motivation and discussion sessions.
Modern equipment and classrooms.
Doubt clearing sessions.
Updated study materials and notes.
Regular test series.
Online and offline tests.
Mock series.
Our institution is the best place for dedicated students to become successful and pursue a career in defence. Tara institute is one of the top 10 coaching institute for Navy MR exam working nationwide and helping students to succeed in this exam. Our institution also gives 100% scholarship to handicapped and fatherless children.

Do not lose any more time. Join our high-achieving academy and tuition center to boost your career and get the best Navy MR exam coaching classes. Our tuition study centres are fully equipped with advanced educational facilities to prepare you in every aspect of the Navy MR exam.

Our study center in Delhi and Mumbai have been consistently ranked as the best coaching institute for Navy MR exam preparation because of brilliant result track record.

Get in touch with your nearest Tara Institute tuition centre and get yourself enrolled today!