CDS (Combined Defence Services) is a written examination that allows quick entry of the most eligible candidates into the Defence services.
Tara Institute in indulged in imparting quality education and necessary training to the students via CDS coaching in Delhi and guide them to head towards their targeted career goal. We strive to create a powerful platform for the students and prepare them to best the competitive exams and become a part of the Defence services.
We own a team of expert faculty that follows the latest syllabus and teaching aptitude to guide the students for the written examination. Our preparatory lectures, personality development classes and doubt clearing sessions offer the students with the perfect tip to achieve success in their career endeavor.
Eligibility Criteria to apply for UPSC CDS Exams

Age:
For IMA: Unmarried male candidates between 19-24 years on 1st January or 1st July of the year succeeding the year of examination.
For Naval Academy: Unmarried male candidates between 19-22 years on 1st January or 1st July of the year succeeding; the year of examination.
For Air Force Academy: Unmarried male candidates between 19-23 years on 1st January or 1st July of the year succeeding the year of examination.
For Officers Training Academy: Male candidates (married or unmarried) between 19-25 years on 1st January or 1st July of the year succeeding the year of examination.
 Educational Qualifications:
For IMA /OTA:A degree from a recognized University or equivalent.
For Naval Academy:B.Sc. with Physics and/or Mathematics or Bachelor of Engineering.
For Air Force Academy:B.Sc. of a recognized University or equivalent with Physics and/or Mathematics as subjects or Bachelor of Engineering.

Application Fee : Candidates belongs to General and OBC category have to pay Rs.200/- (Rupees Two Hundred Only) towards application fee either by depositing the money in any branch of SBI
Selection Process : Candidates will be selected on the basis of performance in CDS written exam, interview test.
How to Apply : Eligible candidates may apply through online from UPSC website www.upsconline.nic.in
"Tara Institute in Delhi is leading for CDS coaching in Delhi"
Instructions for Online Application :
Candidates must scan their photo and signature and make the payment before starting the application procedure.
Candidates should have valid and active Email id.
Log on to www.upsconline.nic.in to start the application process.
Select on 'Online Application for Various Examinations of UPSC' link and select the Combined Defence Services Examination I link.
Select the Part-I Registration link which consists of personal details, fill all details carefully.
After filling up all marked details of Part-I, click on 'Continue' button.
This will provide you with Registration ID, retain it for further use.
To fill up Part-II of Application, Registration Number and Date of Birth must be entered.
Fill all marked details carefully and submit the Application.
Due To The Impact Of Corona Virus in India, We Decided that We will not Provide classroom Studies or offline classes till Lockdown Period, Because Our Prime Minister Told That "JAAN BHI OR JAHAN BHI" And We Understand the Value of Education so we have Decided that we will Provide you LIVE Classes for CDS Exams Preparation, So join our Online Video Lectures for CDS Exams Preparation, Our All Faculties are Ready for Virtual Classes Or Recorded Video Lectures Of CDS Exam.
Regular Course For CDS-2/2020 going to start Online Video Lectures from:-
1st June 2020
15th June 2020
1st July 2020
15th July 2020
1st August 2020
19th August 2020
1st September 2020
For Details Call Us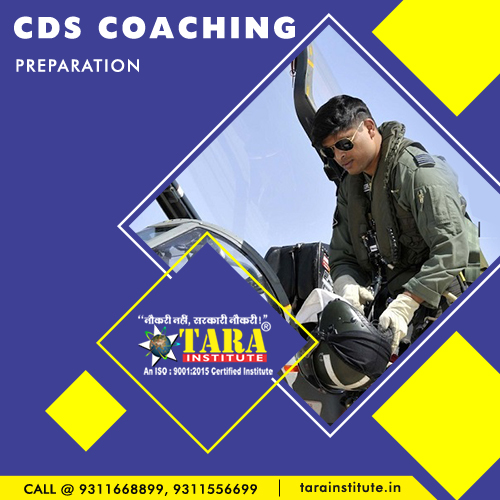 Those joining the first three institutes get the permanent commission, however, cadets passing out of OTA get short service commission. Applicants are required to mention their preferences while filling up the application forms.If you searching for Top 5 CDS coaching classes in New Delhi then you are at right place. Tara Institute top CDS academy is one of the best coaching in Delhi for CDS Exam.
We provide Regular CDS classes as well as the Crash course with Online test series and offline test series facilities, we also offer dedicated complete study material.
Our Unique teaching method help candidates in solving even tough questions in very less time span. We will dependably convey the best quality available to us at most minimal ever taken a toll around region In Delhi area.
We provide best Combined Defence Services with our Best CDS Coaching Centre in Delhi. You can contact with us online with just few clicks. Our counsellor is ready to help you to get admission.
Application
Blank application forms and other particulars are published by UPSC in leading newspapers and Employment News in the month of May/June and November/December. A candidate seeking admission must apply to The Secretary, UPSC, New Delhi on the prescribed application form. The application forms are available on payment of the requisite amount from any of the designated post offices throughout the country. The examination is held in over 40 centres spread all of the countries.
Examination
Plan of the Examination: The examination comprises
(a) Written Examination
(b) Interview for intelligence and personality test of such candidates as may be called for the interview at one of the Services Selection Centers
Examination Subjects:
The following will be subjects for the written examination (each of 2 hours duration):
(a) For admission to Indian Military Academy, Naval Academy and Air Force Academy:
English : This paper tests the understanding of the English language.
General Knowledge : This tests the general knowledge, current events, history of India, geography of nature and other matters of everyday observation.
Elementary Mathematics : This paper covers arithmetic, algebra, geometry, trigonometry, and statistics.
(b) For Admission to Officers Training Academy (OTA):
English : This paper tests the understanding of the English language.
General Knowledge : This tests the general knowledge, current events, history of India, geography of nature and other matters of everyday observation.
Note:
(i) The papers in all subjects will consist of OBJECTIVE-TYPE (Multiple-Choice questions only). The question papers will be set in English only.
(ii) Each paper will be of 2 hours duration and will carry 100 marks.
Standard of Examination:
The standard of the paper in Elementary Mathematics will be of the Matriculation Examination. The standard of papers in other subjects will approximately be such as may be expected of a graduate of an Indian University.
Centres of examination:
Agartala, Ahmedabad, Aizawl, Allahabad, Bangalore, Bareilly, Bhopal, Calcutta, Chandigarh, Chennai, Cochin, Cuttack, Delhi, Dharwar, Dispur (Guwahati), Gangtok, Hyderabad, Imphal, Itanagar, Jaipur, Jammu, Jorhat, Kohima, Lucknow, Madurai, Nagpur, Panaji (Goa), Patna, Port Blair, Raipur, Sambalpur, Shillong, Shimla, Srinagar, Tirupati, Trivandrum, Udaipur and Vishakhapatnam.
The centres and the date of holding the examination are liable to be changed at the discretion of the Commission.
Various concessions, like reservation in posts, are available for NCC cadets appearing in the exam.
Interview and Special Tests
Those who qualify the written test, undergo interview and a series of intelligence and personality tests. The tests, both verbal and non-verbal, are designed not only to judge the mental caliber of the candidate but also to assess his social traits and interest in current affairs.
Personality tests – These tests are as follows
Situation Reaction Test (SRT) : Sixty situations are given and the candidate is required to answer the reactions within 30 minutes.
Thematic Apperception Test (TAT) : A set of 12 pictures are shown and the candidate is required to write a story in 3 minute for each picture.
Word Association Test (WAT) : Sixty words are projected and the candidate is required to make a sentence, in 15 seconds for each word.
Group test : Group Test is conducted in batches of 8-10 candidates. The test consists of group planning, group discussion, outdoor group tasks. The candidates are asked to take lectures on certain topics.
Physical Standards
Candidates recommended by theSSB (Services Selection Board) must undergo a medical examination by the Board of Service Medical Officers, and are allowed to go for the training programs only after being declared fit by the medical board.
Tara Institute offering Coaching Classes for Combined Defence Services: One of the leading CDS Coaching in Delhi. Crack this year CDS Exam with Tara Institute Top coaching classes for CDS join today.
Tara Institute® would be happy to Provide the best and highly experienced faculties in CDS Exams Preparation field. Our rich Experience and highly qualified Faculties gives Proper guidance to do a precise syllabus practice. Tara Institute® is  offering an exclusive batches to the students for CDS Written Exams Preparation at a minimum Fee as well as Free Classes of SSB on Every Sunday at Head Office only by retired Officers. Tara Institute® provide 200 MCQs tests of Monthly Current Affairs as divided in 4 tests including 50 questions each test on Latest Exams Pattern of CDS IMA And OTA and Monthly Current Affairs E-Magazine in PDF forms which are totally free on our website and Android App which is also available free on Google play store. Current Affairs are very important for CDS written Exams. Since 2007 Tara Institute® has been working in the same Education industry of India, it would be great if you could call us for more details for CDS Exams.
Tara Institute® are pleased to introduce ourselves to you as a old Brand of India for CDS Exams Preparation. Tara Institute® is a leading Brand specially for CDS Competitive examinations. We provide the best Section Wise Test Series for CDS Exams curated by ours Experts. The CDS Mock test series are based on the latest pattern and syllabus which give students hands-on experience for appearing in exams of CDS. We have more than 450 test series including Topic wise, weekly and previous years of CDS Examination. These tests increase accuracy and speed of the students to crack CDS Examination. Our Study Materials are up to date as per New pattern of CDS written exams.
Leading best CDS coaching classes in Delhi for CDS exams preparation for making success rate with our well qualified and dedicated full time faculty, online test, latest study material and seperate doubt classes. Join today best cds coaching in Delhi for cds exam preparation.
The Combined Defence Services exam is held twice in a year in the months of February and November. It is conducted by the union public services commissions (UPSC) and enables the aspirants to apply for Indian Army, Indian Air Force, and Naval Academy. The age boundary to apply for this exam is 19-25 years. If you are observing for a trustworthy coaching institute in Delhi, then you have come to the right place. Tara Institute is counted amongst the top 10 CDS coaching institutes in New Delhi (India).Tara institute provides a Comprehensive 45 days and 3 months written coaching and has achieved the best success rate.
How To Prepare For CDS Written Examination?
A candidate can perform for CDS Exam, while he/she is appearing for 3rd year of Graduation. Together Male and Female candidates can apply for CDS Exam. Female candidates can only relate for Short Service Commission i.e. OTA. CDS Exam has three papers i.e. GK, Maths and English for Permanent Commission i.e. IMA, AF & NA and two i.e. English & GK for applicants applying for Short Service Commission i.e. OTA. Candidates with Arts/Commerce related are eligible for ARMY only.
All-out Hours of Coaching
All trained faculty with minimum  experience
Weekly Mock Tests for Each Subject